Doctor on the front line knows time is precious
Share - WeChat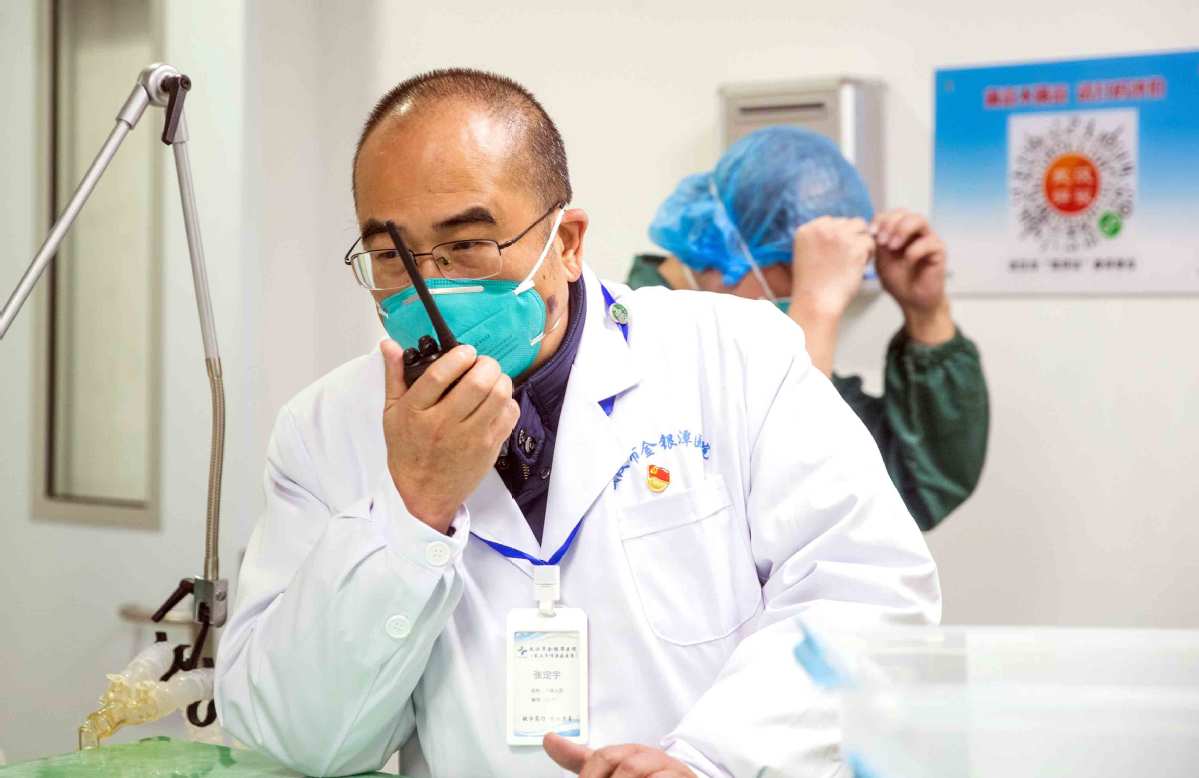 Editor's note: This series tells the stories of selfless individuals, from medical workers to volunteers, who are bravely fighting the virus outbreak with extraordinary dedication.
Zhang Dingyu, the president of Wuhan Jinyintan Hospital, one of the hospitals in Wuhan, Hubei province, that is designated to admit patients infected with the novel coronavirus, has been so busy lately that he barely gets any sleep. Sometimes he goes to bed at about 2 am and gets up around 4 am.
Along with more than 600 colleagues, the 57-year-old doctor has been seeing and treating patients since the hospital received the first seven people with the viral pneumonia on Dec 29.
Zhang, who was diagnosed in 2018 with amyotrophic lateral sclerosis, a motor neuron disease also known as Lou Gehrig's disease, must slowly make his way up and down the stairs in the hospital. "My leg muscles have become weaker because of atrophy," he said.
But he's doing his best to quicken his pace to save precious time for patients infected with the new virus in Wuhan, the epicenter of the outbreak.
On Sunday, 37 patients who were infected with the virus, with the oldest of them being 88, were discharged from the hospital after recovering with the help of medical workers.
Zhang's wife of 28 years, also a medical staff working at another hospital in Wuhan, was infected with the coronavirus and hospitalized on Jan 19. She was fortunate enough to recover but is quarantined at home as a precaution.
But Zhang continues working tirelessly, and though it's a struggle to move quickly, he said, "I have to run, racing against time to save more patients from the deadly disease.
The doctor acknowledged that he's become short-tempered, "because I don't have much time left in my life".
"I have never felt such pressure as today," he added. "For me, ALS is like a sword hanging in the air."
He said he is desperately making full use of every single minute of his life, which he knows is counting down.
Zhang, an expert in infectious disease prevention, was on high alert in December after some cases of pneumonia with an unknown cause began to be reported at hospitals in Wuhan. After the first seven such patients were transferred to Jinyintan Hospital, it eventually set aside two separate areas for around 80 patients infected with the new virus.
Zhang and his colleagues have been overloaded with work.
"Normally, nurses change shifts every two hours," he said. Now the nurses, as well as doctors, must work four or five hours straight without a break, and "physical exhaustion will increase the risks of being infected".
On Jan 24, the eve of the Chinese Lunar New Year, 150 medical workers from Army Medical University in Chongqing were sent to the hospital to support its staff.
Even so, Zhang-who has worked at the hospital for six years and has been on the front line of medical emergencies for decades, including the devastating Wenchuan earthquake in Sichuan province in 2008 and overseas medical relief missions to Algeria and Pakistan-has been on duty every day since Dec 29.
Noting China's scientific and economic strength and the unified will of its people, Zhang said he's confident.
"I believe that we'll conquer this disease," he said.
Xinhua and Hubei Daily contributed to this story.