Measures to ensure public order are in place: Public security minister
Share - WeChat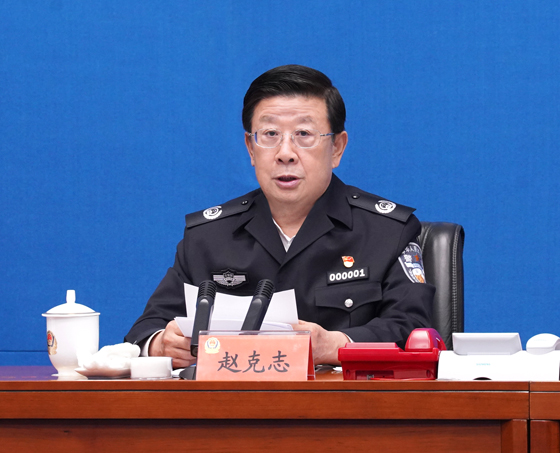 Unauthorized acts of blocking roads and setting up checkpoints in the name of quarantine during the outbreak of the novel coronavirus will be handled in accordance with the law, according to the Ministry of Public Security.
Public security forces need to provide assistance to help other authorities receive patients who are infected and those who have close contacts with the patients who are put under quarantine, Public Security Minister Zhao Kezhi said Tuesday at a meeting on fighting the virus.
A sufficient number of police officers will be dispatched to public transport hubs, especially airports, railway stations and bus stations, to maintain public order while health inspections on personnel, vehicles and goods are being carried out. The officers also are required to ensure ambulances and vehicles used for epidemic control and transporting medical staff, as well as those carrying medical equipment, pass checkpoints first, Zhao added.
He also discouraged the behavior of people blocking roads and setting up checkpoints by themselves to enforce quarantine measures, and said such unauthorized actions will be handled in accordance with the law.
The ministry will strike hard on manufacturing and distributing counterfeit drugs and medical equipment and trafficking protected wild animals. The officers will target those who interfere with epidemic control and spread rumors about the epidemic situation, Zhao added.
Guo Shengkun, a member of the Political Bureau of the CPC Central Committee and head of the committee's Commission for Political and Legal Affairs, also said on Tuesday at a meeting that the security level at hospitals and crowded public places will be raised as maintaining public order is crucial during the outbreak.