Demand heats up in sizzling hotpot sector
Share - WeChat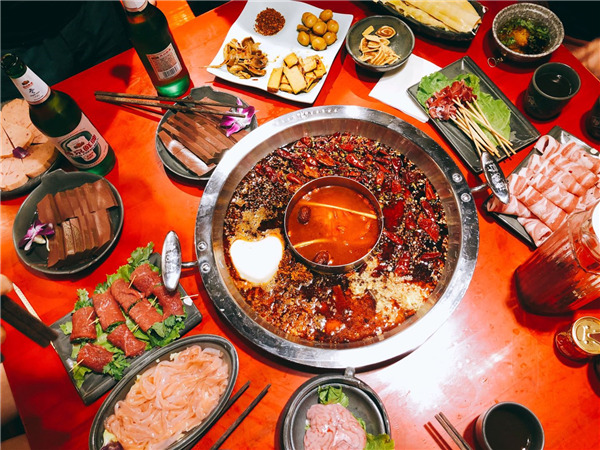 A mouth-numbing spicy broth with 30 different seasonings. Floating isles of "beef oil". Slices of mutton that melt in the mouth.
Your stomach is probably grumbling loudly before having a hotpot. But hold on. Just take a look at the diners in a queue that stretches out of sight down the sidewalk.
Hotpot mania is on.
It has lured dozens of diners to line up for hours at some popular hotpot restaurants both at home and abroad. It has also warmed up the appetites of merchants and investors despite the chill of a frigid winter.
The figures speak for its popularity. The hotpot sector alone swallowed up over 20 percent of the market share in China's catering sector last year, making it the largest niche segment, said the China Hotel Association, which is responsible for serving catering and restaurants in the country.
The hotpot industry exceeded 870 billion yuan ($125.7 billion) in sales revenue in 2018. The association estimated the market could rocket to around 960 billion yuan by the end of 2019, which is expected to catch up the total valuation of China's iconic distiller Kweichow Moutai Co Ltd.
"As the saying goes, there's nothing to worry about after having a hotpot. If you are still worried, then go for it twice," quipped Yu Jiaqing, a 28-year-old luxury brand marketing staffer from Beijing who has hotpot at least twice a week.
"As the food continues to boil in the broth, we keep drinking and chatting with each other. The atmosphere makes the time warm, too," said Yu. "My friends and I become a bit addicted to this spicy dish, especially in the cold winter."
For most Chinese like Yu, hotpot is usually a social event. A group of people sit around a table to eat, chat, drink some beer and just have a great time for several hours.
A survey by Chenzhi Catering Database showed that 40.2 percent of Chinese usually eat hotpot with friends while 17.6 percent use the occasion for a family reunion.
There were 516,000 hotpot restaurants in the country by the third quarter of 2019, growing rapidly by 11.6 percent year-on-year, China's on-demand service platform Meituan-Dianping estimated.
Most Popular