Women's fast track to success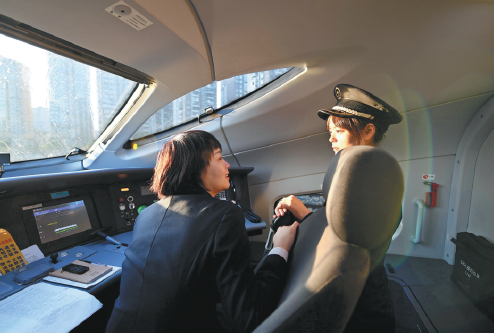 The first female drivers of high-speed bullet trains prepare for holiday rush
FUZHOU - At about 5 am, Xiao Lihua got out of bed and put on her uniform before rushing to the train yard for a breathalyzer test-a must-do before a bullet train driver embarks on a journey, which can reach speeds up to 300 kilometers per hour.
At 8:16 am sharp, the train, carrying over 1,000 passengers, departed Fuzhou, capital of Fujian province. Their destination was the southern city of Guangzhou, about 900 km away.
Xiao, 26, is one of China's first female bullet train drivers, after undergoing a three-year training program.
For Xiao and her peers, this month is especially critical as they embrace their first Spring Festival travel rush as assistant drivers.
An estimated 3 billion trips will be made during this year's 40-day travel rush from Jan 10 to Feb 18, according to the National Development and Reform Commission. The flood of passengers presents a challenge for every driver to be efficient and punctual.
As the assistant driver, Xiao is not yet allowed to operate a train by herself. However, she is responsible for checking signals and communicating with staff on board, and those at the stations.
In the past, train driver jobs were dominated by men, when the work was more labor intensive. But now, with the help of technology, the job requires less physical strength but more expertise.
In May, China launched a program to establish the country's first group of female bullet train drivers. At the Fujian branch of the China State Railway Group, 17 women, including Xiao, were selected to join the existing pool of 4,000 male drivers.
Majoring in electronics and electrical engineering at college, Xiao worked as a coach attendant for a year, before working as a clerk for another five years with the railway company.
"I was not happy with my previous job because it required little expertise and had nothing to do with what I'd learned in college," said Xiao, who immediately applied for the position after learning about the recruitment program.
"Now I am a big step closer to my childhood dream of driving a train," she said.
The right stuff
But being a modern train driver is not easy. To operate a train, the trainees have to go through multiple tests on regulations and technical knowledge of high-speed trains, as well as a two-year internship inside the driver's cabin. Xiao is halfway through her internship.
After the tests, only 12 of the 17 female trainees qualified for the job.
However, it is not the first time China has had women train drivers.
In March 1950, Tian Guiying, then 20, became China's first female train driver when the steam train she operated chugged out of Dalian railway station, in Liaoning province. Tian was the head of an all-women train crew for more than 30 years.
In the 1970s, several teams of female train drivers were set up, but all of them gradually quit over the next 10 years due to the hard physical aspects of the job.
Now, a new generation of female train drivers is on the rise.
"Women are more meticulous and patient, giving them an edge as bullet train drivers," said 48-year-old instructor Lyu Xiangyang, 48. As a veteran train driver, Lyu has trained over 600 drivers in his career. But it is the first time he has ever had female apprentices.
Lyu said he had to be strict with his female students because they are only given three years to pass all the tests, with the rapid expansion of China's high-speed rail network and the urgent need for more drivers. The traditional process usually takes five to six years.
"It means they have to work twice as hard as their male counterparts," Lyu said.
Determined to turn her dream into reality, Xiao put all her energy into studying and memorizing all the switches and knobs in the cab.
Xiao's father is a martial arts aficionado. He named his daughter after Fan Lihua, a legendary female general in Chinese folklore in the Tang Dynasty (618-907), in the hope that she would be as daring as the ancient heroine.
"On my maiden trip, I'll invite my parents to ride on the train," Xiao said. "I will try my best to make it happen."
Xinhua