The Xiangjiang River ferryman who saves souls for a living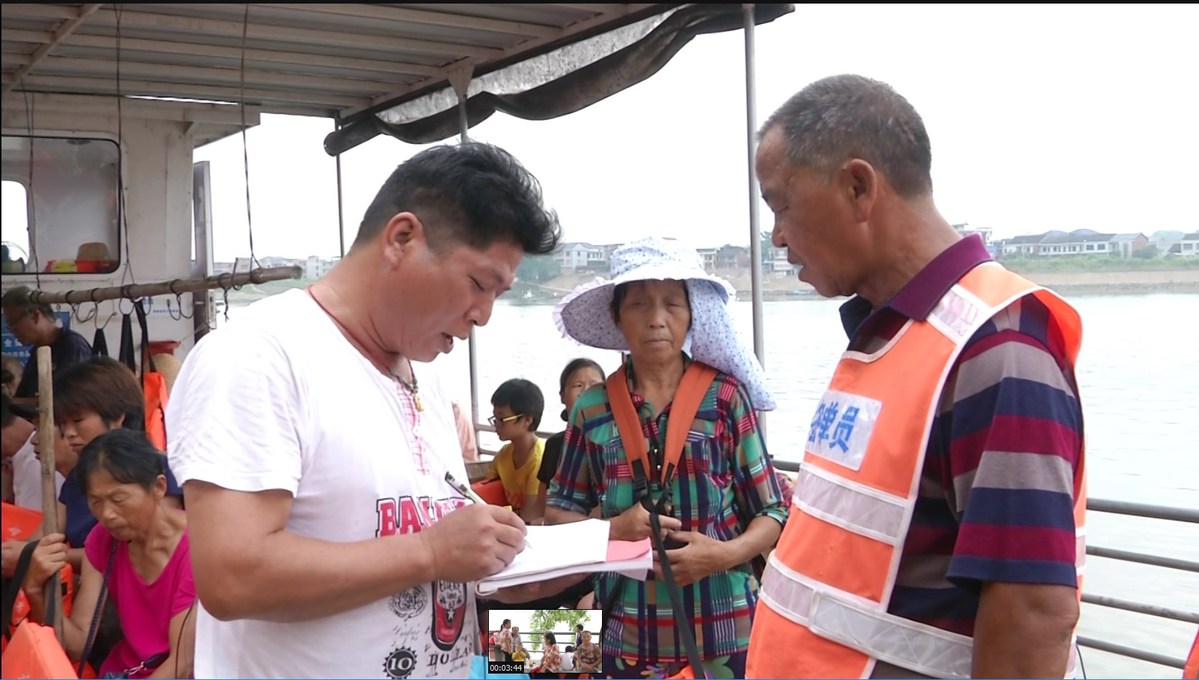 Over the past 35 years, ferryman Tang Shiguo has saved more than 24 souls from drowning as he plied his trade on Xiangjiang River in Hunan province.
Every time he heard a cry for help, the 61-year-old rushed to the scene without hesitation.
"When there is an emergency there is no time for me to think too much, saving people is always the priority," he said.
Tang grew up in Guiyang town near the river and became a ferryman at the age of 26. When he is not ferrying people on the river, he is also required to stop leisure activities and children playing too close to the water.
But for decades, he has done much more than his duty, risking his life to save people who place themselves in danger after ignoring warning signs.
He clearly remembers his first rescue on July 15, 1984.
A woman washing vegetables on the riverbank slipped and fell into deep water.
As she struggled and began sinking, Tang, who was on duty nearby, jumped in and pulled the drowning woman to the bank. She was rushed to hospital for treatment.
"The accident was during the flood season," Tang said. "And in this dangerous season tourists and some local people like to move around or even swim and paddle in the river."
Tang has lived by the river most of his life. He learned to swim at the age of 5, was able to cross the Xiangjiang River at the age of 8, and could dive and catch fish at the age of 10. As a result, he developed excellent swimming skills.
The river is more than 600 meters wide, and about 1,000 kilometers long. Tang is in charge of 700 meters of it.
Risky business
"Those who play in the river regardless of the signs don't have any awareness of their physical safety or good manners. After being saved, some of them don't even say thank you," he said.
However, saving people from drowning often means putting the rescuer's life at risk. In 2016, two people died during a rescue operation in Tang's hometown, according to the local government.
Tang experienced a dangerous situation in July, 2012. A local woman and her two daughters were washing clothes at a wharf. The two children, aged 10 and 11, who were playing and splashing each other, fell into the river and were pulled into deep water.
Tang, who was resting on the shore with an acute pain in his side, immediately ran to the scene.
His wife ran after him and shouted: "You are going to die. If you are not feeling well, don't try and save other people!"
Tang plunged into the water despite the warning. He swam to the middle of the river, grabbed the 10-year-old girl and placed her hand on his right shoulder.
With one girl clinging to his shoulder, Tang swam further into the river to rescue the other girl.
"When I swam to the second girl, the 11-year-old girl struggled and panicked because the river current was too strong," he said. Tang failed to clutch her several times, and she began to sink.
He eventually grabbed the 11-year-old's hair and lifted the little girl out of the water. With both girls clinging to his back he swam to the river bank.
After the rescue, he walked home with the help of his wife. Later, he was rushed to the hospital by his neighbor, where he was diagnosed with acute appendicitis.
Tang's rescue efforts remained largely anonymous, until one day in 2012 when a relative of one person he saved took a video of the rescue and posted it online. The story of Tang's heroics quickly spread.
In 2013, 2017, 2018 and last year, he received bravery awards from the local government.
Tang said as he ages and grows physically weaker, more effort is needed to keep up with the demands of the job.
"I keep exercising every day so that I can still do something once an emergency happens," he said.
Contact the writers at lihongyang@chinadaily.com.cn