Rare revue
Share - WeChat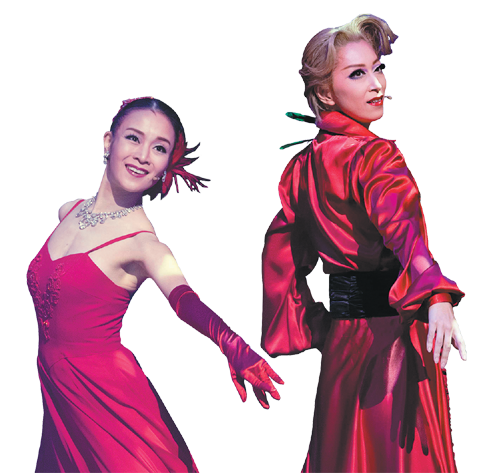 The storyline and musical pieces are mostly from The Rose of Versailles and Elisabeth, both of which are Takarazuka Revue classics, says Yumyo Okabe, the plays' scriptwriter and director. The most spectacular moments of the show are the war scenes and a duet, she adds.
A script about the classical Chinese novel, Romance of the Three Kingdoms, is in preparation to attract more Chinese audiences to Takarazuka Revue.
"We didn't have enough time to get it ready for this visit to Beijing, but I do hope we can come back some time and deliver the Takarazuka version of Romance of the Three Kingdoms to a Chinese audience," Okabe says.
The leading performers in Sword and Love-Women in Love with Napoleon are Hiroka Tsubaki, as Napoleon, Kayo Asano, as Josephine, and Rira Maikaze, as Marie.
"As many years have passed by, the deepest impression I have of Takarazuka is how really hard I work there," Takane says. "I hope that younger people who join the troupe not only pay attention to etiquette and manners but enrich their knowledge and improve their acting skills as well."
In the weeks leading up to the Takarazuka performances in Beijing, worries about its lack of fame in China seem to have been dispelled, going by the number of people buying tickets for the shows.
"What drew me to this was the makeup of the cast that I saw on a poster. It looked bizarre and, at the same time, alluring. Upon seeing a performance, I was stunned by how these women can play male roles with such power and grace, and with such wonderfully soothing voices," says a Chinese fan Zhang Xinyi.
"It's not just the voices but also the beautiful lines they deliver. And no matter how old the actors are, they seem to be able to create a dream world for the audience. That's the magic of Takarazuka."
In November, State Councilor and Foreign Minister Wang Yi met Japanese Foreign Minister, Toshimitsu Motegi, in Tokyo. This year, the two countries plan to improve bilateral relations, especially in the fields of sports and culture.
In that regard, Takarazuka Revue's appearance in Beijing is set to be a curtain raiser.