Rare revue
Share - WeChat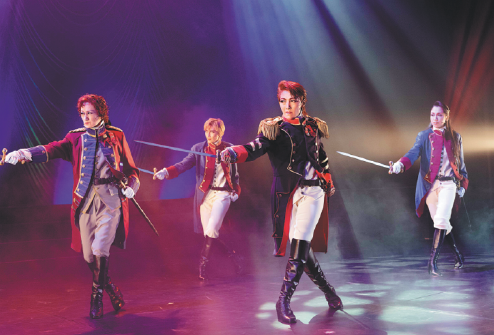 A Japanese show in Beijing is set to start a year of cultural exchanges, Ye Zizhen reports.
When Fubuki Takane talks with China Daily on the phone, her voice sounds nothing like when she sings onstage. But why would it?
Takarazuka-the Japanese art form in which Takane specializes-is different because women are cast in leading male roles. Takarazuka Revue also distinguishes itself from other opera troupes in that the cast consists of unmarried women. Once a member marries, she graduates, becoming a member of Takarazuka OG, meaning "old generation".
The revue, founded in Hyogo, 70 kilometers west of Kobe, in 1914, has developed a strict system of training and promoting the casts. Before joining Takarazuka and performing on the stage, apprentices need to be admitted via the Takarazuka Music School, a stone's throw from the Takarazuka Grand Theater on the banks of the Muko River that flows into Osaka Bay.
During the two-year course, they learn acting, singing, dancing and makeup. Before graduating they need to pass a series of tests and successfully perform various pieces onstage.
The leading graduates become candidates for male roles, or otokoyaku. There are five sub-troupes in Takarazuka-hana (flower), tsugi (moon), yuki (snow), hoshi (star) and sora (cosmos). Each has a leader, who usually stars in a male role.
"It is difficult for women to play male roles," Takane, 54, says. "I had to learn how to walk, talk, dance and sing like a man. At the same time, we need to stay elegant and graceful."
Takane enrolled in Takarazuka when she was 15. It took her 16 years to reach the top of yuki-gumi, the snow troupe, from 1996 to 1997.
Takarazuka is recognized as Japan's top opera troupe. But its appeal is not largely recognized outside the country because of its limited variety of scripts, the fact that they are in Japanese, and the peculiar costumes and makeup. Still, it exudes a glamour that in some ways would not seem out of place if you were watching the show in Las Vegas.
Takane says she has visited China previously, but from Jan 10 through 12 will be her first time performing in the country when her show will be staged at the Tianqiao Performing Arts Center in Beijing. During that time, 23 members of Takarazuka OG will perform the classic, Sword and Love-Women in Love with Napoleon. The play recounts the story of Bonaparte's life from his campaign in Egypt to his exile on the island of Elba, and his relationships with empress Josephine de Beauharnais and Polish countess Marie Walewska.