China's largest satellite enters orbit
Share - WeChat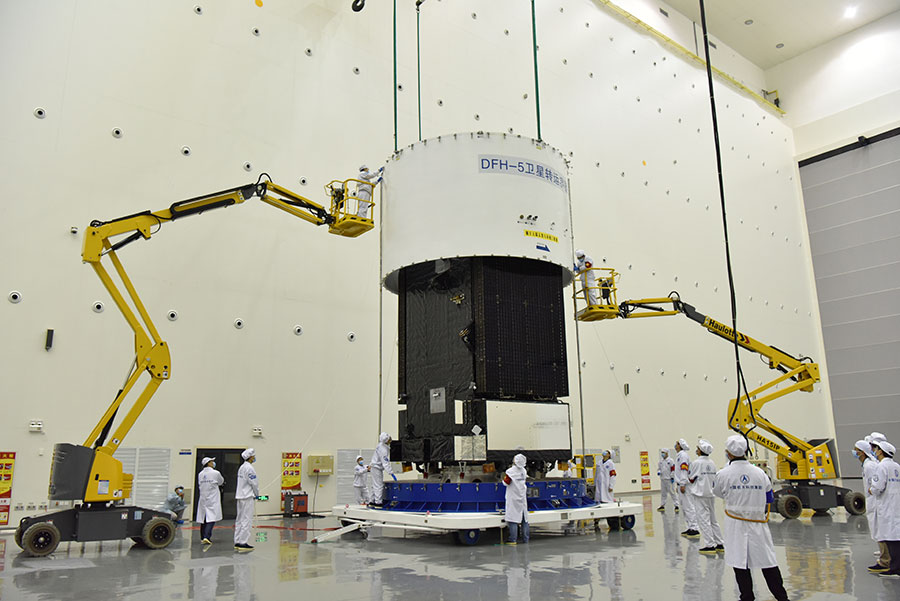 China's biggest, heaviest and most advanced satellite has blasted into space to carry out demonstrations and verifications for advanced satellite and communications technologies.
Shijian 20, a technology demonstration satellite developed by the China Academy of Space Technology in Beijing, achieved liftoff using the Long March 5 carrier rocket at Wenchang Space Launch Center in Hainan province on Friday night.
It was the second satellite based on China's new-generation satellite platform, DFH-5, after the Shijian 18 was lost during Long March 5's failed second flight in July 2017.
The satellite has a liftoff weight of more than 8 metric tons, carries over 10 world-class technological payloads and is equipped with the country's largest, longest and most sophisticated solar arrays. It is expected to work at least 16 years in a geosynchronous orbit about 36,000 kilometers above the Earth.
The spacecraft's major tasks are to test the overall design and reliability of the DFH-5 platform as well as to verify several key space-based technologies and new equipment, according to Zhou Zhicheng, chief engineer at China Academy of Space Technology and project manager of the Shijian 20.
Hao Yanyan, a supervisor in the Shijian 20 program, said that DFH-5 can be the basis of a wide range of satellite models for different operations ranging from high-orbiting communication and microwave remote sensing to space-based scientific exploration as well as technological experiment.
"DFH-5 is our new-generation satellite platform with an ultrahigh capacity. Its overall capability is world-class," Hao said on Friday in Wenchang. "Its research and development began in 2010 to meet increasing demand for high-performance communication satellites. Each DFH-5-based satellite is three times stronger than those developed on its predecessor, DFH-4, when it comes to operational capacity."
She added that DFH-5 is suitable for all types of large-capacity satellites in the coming two decades.
Li Feng, chief designer of the Shijian 20, said that the satellite will embark on several in-orbit technological experiments and some of them will be "cutting-edge and strategically significant", including satellite-ground laser communication tests. Results of these experiments will be useful in the research and development of next-generation space technologies, Li said.