What they say
Share - WeChat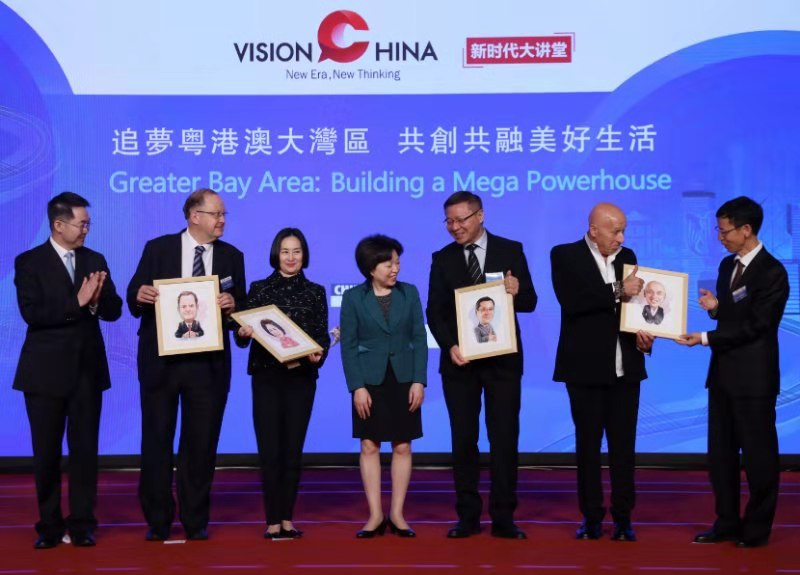 The forum had good speakers who addressed issues which I was not aware of before. I found Professor Zhang Weiwei's talk the most inspiring as he explained the political system China has and why the country adopted such a system. That really helped me to better understand policies concerning the Guangdong-Hong Kong-Macao Greater Bay Area.
Carlos Duque Simoes, president of the board of directors, Macao European Chamber of Commerce
The Guangdong-Hong Kong-Macao Greater Bay Area gives Macao a broad market to seek what it needs to diversify its economy and talent in different sectors. I hope the new Macao government will spend more effort in this area and take Macao to new heights.
David Liu, chairman of the Macau Shipper's Association and member of Macao SAR's first Legislative Assembly
It's important for a city to be an information center if it wants to become a financial center. Through events like Vision China, especially with insights shared by industry leaders from all sectors, the exchange of information and knowledge is an initial step for Macao to become a financial center. I hope more events of this kind can be held in Macao.
Ding Meng, senior strategy analyst at Bank of China's Macao branch
The speeches during the Vision China event showed us the long-term development (plan) of the Greater Bay Area and provided some guidance for cooperation in education within the area. The construction of the Greater Bay Area also allows students from the Chinese mainland, Hong Kong and Macao to better communicate with each other through exchange groups.
Shawn Ling, shareholder, C H Holding
Speakers at the forum have provided a promising perspective on the future development of the Guangdong-Hong Kong-Macao Greater Bay Area. I've now become much clearer on what I can expect from the area career-wise. I think I may have my career within the area.
Wang Hang, postgraduate student, University of Macau
Macao has one advantage that no other city in the nation can compete with — excellence in Portuguese usage. We should continue to make full use of this advantage and further help the city, as well as the country, to profit from trade ties with Portuguese-speaking countries.
Victor Chan Chi-ping, director, Government Information Bureau of Macao SAR
I think the quality of the speakers was top notch, well beyond my expectations. I'm amazed, but not surprised by, Madam (Pansy) Ho's speech. Basically, it's about Macao's commitment to collaboration and ambition in and vision for the Greater Bay Area.
Christopher Ng, head of programmes development, British Council in Hong Kong
We have very good relations with China in general, Macao in particular because we (share a) common (history). Also in terms of the language, because Mozambique is one of the Portuguese-speaking countries. And Macao is a platform for cooperation between China and the (Portuguese-speaking) countries. We use Macao as a platform of cooperation with mainland China. It's important for us. We use Macao as a forum for opportunity, (to drive) investments to Mozambique.
Rafael Custodio Marques, Mozambique's Consul General in Macao