HK, Macao to benefit from Bay Area integration
Share - WeChat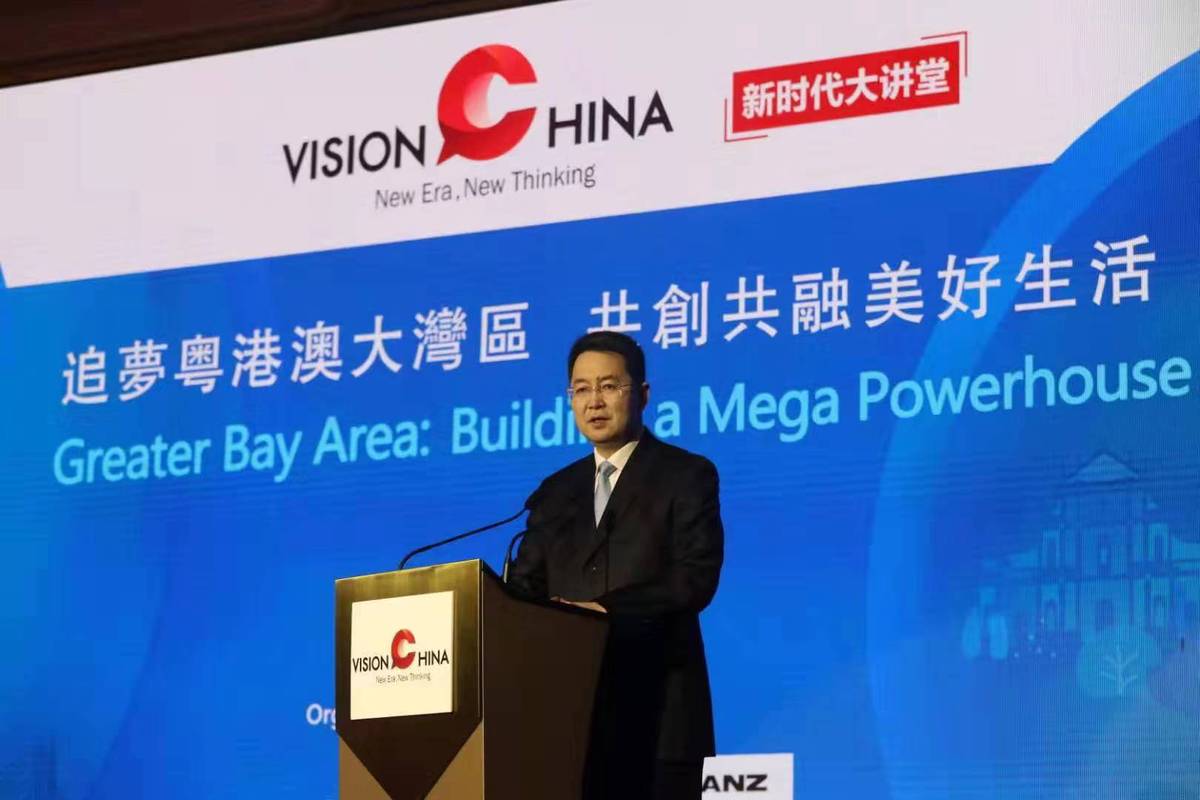 Integrated development of the Greater Bay Area is beneficial for Hong Kong and Macao, Qu Yingpu, deputy editor-in-chief of China Daily, said at the "Greater Bay Area: Building a Mega Powerhouse" forum in Macao recently.
"Boosting the integration of Hong Kong and Macao with the overall development of the country will create a world-class bay area and world-class city cluster that can be a role model for high-quality development," Qu said.
He emphasized the initiative "will support Hong Kong and Macao in developing their economies and improving people's lives".
The central government laid out the development blueprint of the Greater Bay Area in February, aiming to turn the region, traditionally known as the country's manufacturing hub, into a global innovation and technology powerhouse.
As a highly open and vibrant region in China, the Greater Bay Area consists of Hong Kong, Macao and nine cities in Guangdong province, including Guangzhou and Shenzhen.
With the aim of providing a platform for sharing in-depth insights into the Greater Bay Area development, China Daily organized the Macao forum, the latest among a series of Vision China events, according to Qu.
As President Xi Jinping has pointed out, socialism with Chinese characteristics has entered a new era. And not only has the country's reform and opening-up stepped into a new era, but so too has the principle of "one country, two systems", he said.
"An increasingly prosperous Macao is living proof of the successful practice of the 'one country, two systems' principle," Qu said.
Macao's economy has recorded astonishing growth since its return to China in 1999 and its position as a global tourism and leisure center has been reinforced, said Qu, who last visited the city in 2008 as the spokesman for the Beijing Olympic Torch Relay.
An economy with a population of about 670,000, Macao saw its gross domestic product per capita surpass $80,000 in 2018, one of the highest in the world. The special administrative region ranked fourth in terms of creativity among the 11 cities in the Bay Area, after Shenzhen, Hong Kong and Guangzhou, according to the 2018 Chinese Corporate Innovation Report by HSBC Bank (China).
Qu said China's ongoing national strategies, in particular, the Greater Bay Area and the Belt and Road Initiative, spelled potentially huge opportunities for Hong Kong and Macao.
"Although we face some challenges today, the 'one country, two systems' principle will shine more brilliantly in Hong Kong and Macao as long as we remain united as one. In doing so, the Guangdong-Hong Kong-Macao Greater Bay Area will become a dynamic, first-class area with global competitiveness and the dream of the great rejuvenation of Chinese nation is bound to come true," he said.
The forum attracted hundreds of prominent figures, ranging from officials and business leaders to scholars. The guest speakers included Pansy Ho, group executive chairman and managing director of Shun Tak Holdings; Zhang Weiwei, director of the China Institute at Fudan University; John Ross, senior fellow at the Chongyang Institute for Financial Studies of Renmin University of China and former director of Economic and Business Policy of London; and Allan Zeman, chairman of Lan Kwai Fong Group.
China Daily launched Vision China in January 2018 to serve as a bridge for communication between China and the rest of the world. Focusing on the biggest issues on the global agenda, Vision China invites well-known Chinese and overseas opinion leaders to give talks and share their ideas.