3D printing injects future into medical industry
Share - WeChat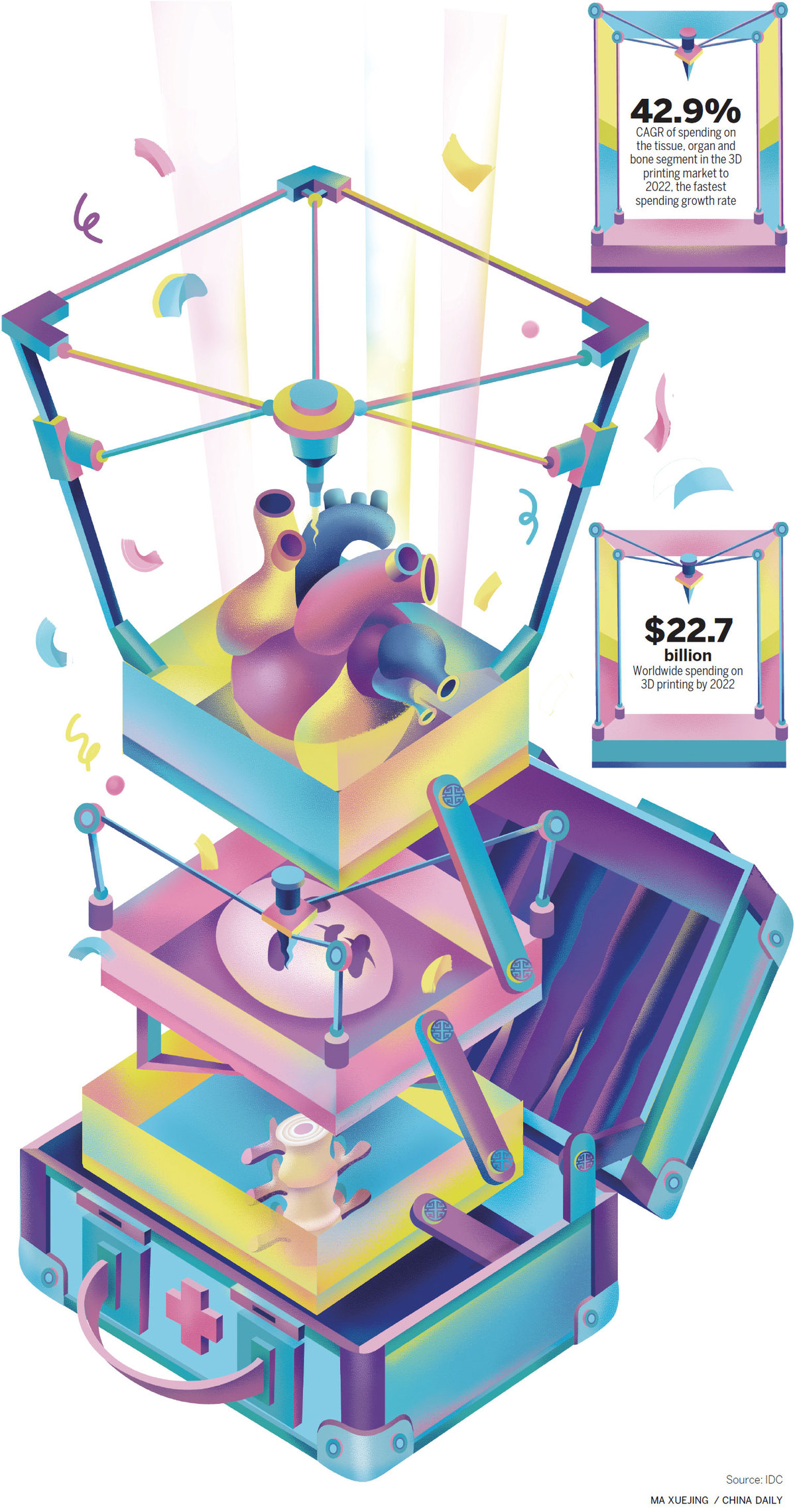 Organ transplants, tissue repair, dentistry applications, surgical tools... limitless possibilities herald multibillion-yuan sector
Artificial ... no, not intelligence ... artificial skin, anyone?
Specialized application of 3D printing is spawning a multibillion-yuan business segment in the medical and healthcare industry, making customized, even personalized, health and wellness solutions possible in China.
From surgical preparation and guides to manufacturing of dental and orthopedic implants, and medical tools and devices ... all are now products of 3D printing, a term for additive printing that applies successive layers of materials to make a three-dimensional object from a digital model.
The development is part of a global trend. Research firm International Data Corporation or IDC expects worldwide spending on 3D printing to be nearly $22.7 billion with a five-year compound annual growth rate of 19.1 percent by 2022.
As spending by the healthcare industry rises, dental objects and medical support objects will become the fourth-and fifth-largest use cases in 2022.
The fastest spending growth will be seen in tissue, organ and bone (42.9 percent CAGR), and dental objects (33.1percent CAGR), IDC predicts.
Although no reliable reports are available on 3D printing in China's medical industry, Chinese 3D printing companies are making their mark on the medical sector nevertheless. In some areas, they even lead the global pack as the cutting-edge technology is being adopted in China at a rate higher than that in most countries, industry people said.
Medprin Regenerative Medical Technologies Co Ltd, a Guangzhou-based medical device producer, has made biological 3D printing a core technology to develop high-end medical products and devices for precisive medicine.
The company said it is developing a dozen of human tissue repair products, including personalized skull and maxillofacial (relating to the jaws and face) repair system, artificial skin, blood vessels and ligament among many others, to lay the technical foundation for the future development of more advanced artificial tissues and organs.
"Medical 3D printing is developing very fast in China, and in the field of biological 3D printing, our technologies are almost as advanced as international leaders," said Deng Kunxue, director of the company's medical research and development department.
"3D printing of cells is the basis for bioprinting functional organs, and we just need more support from government regulation to realize clinical use.
"In the future, organ transplantation may become as easy as changing a component."
The company, one of the top world players in medical 3D printing, has more than 130 patents granted from regulators in the United States, Russia, Japan and China. And more than 130 patent applications are pending approval at home and abroad.
Its flagship 3D-printed biological dura mater (ridge) membrane, called ReDura, a replica of tissue covering the brain, has been used in more than 70 countries and regions benefiting more than 300,000 patients, Medprin said.
The product is closest to patients' autologous cells with the best repair effect, because of a special 3D printing technology applied, the company said.
Only 0.2 millimeter thick, the membrane has multiple and interweaving pore structures formed by numerous microfibers, which is very conducive to the migration and growth of cells, so that new tissues can grow very fast to repair the defective meninges.
Guo Zheng, deputy chief of the digital orthopedics department of the Chinese Medical Association's medical engineering branch, said Chinese companies will be able to design and produce all that is needed in 3D printing within two to three years, from printers, materials, to software, because of their rising R&D investments, although China still needs to import certain printing materials and core printer components.
"Some domestic companies are already capable of producing 3D printers that have even higher precision than imported ones," he said.
"As for clinical research and use of 3D printing technologies, China is already among the pioneers, driven by spirited innovation."
Applications of 3D printing in surgical preparation, and surgical guides and implants design and manufacturing, can maximally customize surgeries to meet individual patients' needs, he said.
China's 3D printing-related clinical research, design and applications caught up fast in the past few years although the technology was first invented in the US, mainly because China's more flexible 3D printing medical research and application regulatory policies, compared with many other countries, give enough room for innovation, he said.
Guo, who is also deputy president of the orthopedics branch of Xijing Hospital in Xi'an, Shaanxi province, said his team has been conducting research on new biodegradable materials to 3D-print orthopedic cages, and their research findings are to be tested by clinical trials soon.
AK Medical Holdings Ltd, a medical device company in China's orthopedic joint implant market, started to apply 3D-printing technology in orthopedic joint and spine replacement implants design and manufacturing in 2009.
In 2015, its first 3D-printed hip implant product was commercialized. Now, it has three 3D-printed orthopedic implant product series in the market, and has become the largest 3D-printed implant providers in Asia-Pacific.
A Hong Kong-listed company, its financial reports showed that sales of 3D-printed products reached 51 million yuan ($7.25 million) in the first half of this year, soaring from merely 10 million yuan in 2015.
Li Zhijiang, chairman and CEO of the company, said the spurt in domestic 3D-printed implants, from an increasing number of Chinese companies eyeing 3D printing market, has become an important force to challenge foreign companies' dominance in the high-end implants market in China, including helping lower high prices of foreign products.
The company's 3D products, approved by Chinese regulators as standardized implants, have already entered some Belt and Road economies, such as Indonesia, Pakistan, and Saudi Arabia.
The company plans to replace imported materials and devices with domestic ones in the manufacturing of its 3D products as soon as the authorities concerned approve them.
It is also co-developing customized 3D-printed implants with top Chinese research institutes, which will have higher compatibility and stability than standardized ones.
The newly released government guidelines on supervision and management of personalized medical devices, which will come into effect in January, will further boost medical application of 3D printing in China, because the new regulation exempts review and approval process for customized medical devices that treat rare conditions or meet unmet clinical needs, Li of AK Medical said.
Kang Xuan, general manager of Becoming Digital Dental, a Shenzhen-based startup specializing in digital dental applications, said 3D-printing technology is reshaping China's dentistry industry.
The world's most populous nation, China faces severe shortage of dental professionals, especially in rural areas, and 3D printing can help ease the situation, because it provides more cost-efficient solutions, she said.
From fabricating customized and accurate dental devices like braces, bridges, and implant guides, helping doctors simulate procedures on special software and 3D-printed models, to training young doctors, 3D printing technology can speed up diagnosis and treatment, minimize risks, and standardize procedures. It can thus help enhance dental care service quality, especially in underprivileged areas, she said.
However, 3D printing applications in the medical field could harm patients if they are not properly used or regulated, said Wang Xudong, a reputed oral and maxillofacial reconstruction specialist with Shanghai Ninth People's Hospital, which is affiliated to the Shanghai Jiao Tong University School of Medicine.
Chinese authorities have approved several standardized 3D-printed medical implants for market use, but personalized 3D-printed medical implants can only be used in clinical trials under current regulation, he stressed.
Although the newly released guidelines on personalized medical devices only ask for registration of some customized products, they still require review and approval of the rest of personalized medical devices. An integrated policy on review and approval of 3D-printed medical devices is expected soon.
With companies plunging into the industry without complete understanding of 3D printing's medical applications or restraint, there could be medical incidents. Even scandals that could damage the healthy development of the sector can't be ruled out, he warned.