Large crowds gather for peaceful rally against violence in HK
Share - WeChat HONG KONG - Tens of thousands of Hong Kong people, together with victims of violent attacks by rioters, took part in a public rally in Hong Kong's Tamar Park Sunday afternoon to say no to violence.
The peaceful rally was seen as the outburst of the silent majority's pent-up fury against radicalism and violence of radical protesters who have repeatedly thrown the city into chaos in the past six months.
The participants, waving Chinese national flags and Hong Kong SAR's flags, chanted the slogan: "Support the police in enforcing the law".
"I believe Hong Kong has a bright future and it will move on because I am seeing tens of thousands of Hong Kong people coming here today to reject violence," said the convener of the rally Leo Leung Hoi-fung, expressing his gratitude to all the participants.
Leung was harassed by protesters at the Hong Kong International Airport in August. He spoke out about his frustration on arrival from Beijing when he found the airport was paralyzed by protesters. The protesters forced the airport to shut down for two consecutive days in an attempt to pressure the authorities to meet their political demands.
Leung wished that the rally could send a message to local people and the rest of the world that violence is not welcome in the city. He urged protesters to stop the "black terror" that use violence to silence people who are against violence.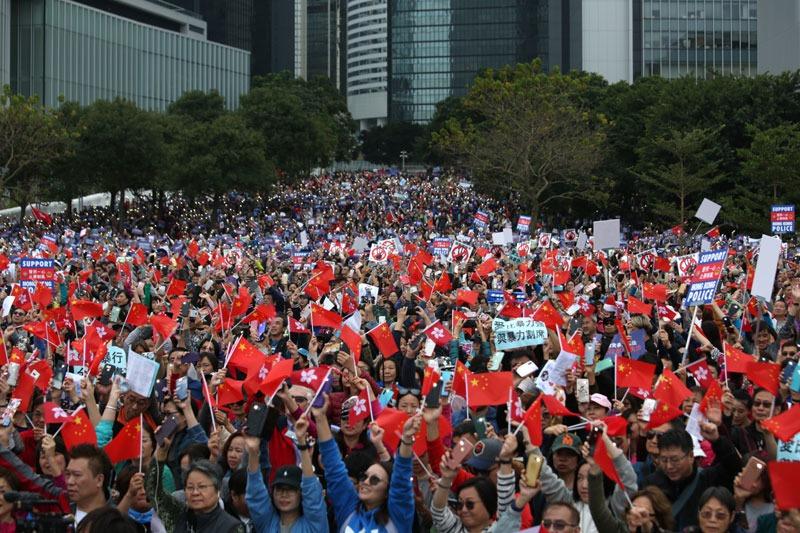 Chan Ho-lap, 37, a construction worker, recounted his experience onstage. He was attacked by radicals at the Tin Shui Wai metro station on Sept 1, 2019. He was beaten by radicals who overheard him telling the police officers trying to maintain order at the station that he supported them. He recalled that he found it unbearable to listen to those protesters hurling insults at the police officers on guard at the station and their family members.
"I don't understand why I am not even free to say I support the police," said Chan. The experience made him realize that violence does not bring freedom. It only infringes on other people's freedom.
Another victim surnamed Wen was assaulted by radical protesters at Amoy Plaza on Sept 14. He was heading to join a group of people who gathered spontaneously to sing the Chinese national anthem when he was harassed by a masked protester. He was then beaten after trying to take off the assailant's mask.
Wen said he was alone when was being attacked that day, but he did not feel alone on Sunday. He was happy and proud to see the many thousands of "brothers and sisters" taking a stand for honesty and bravery, without the need to masked their faces.
Wong was struck by a brick last month while clearing barricades set up by rioters near the Polytechnic University of Hong Kong. Her head injury and needed five stitches. During the clash, Wong was holding a brick in her hand that she picked up, but she did not throw it back as she knew that violence was wrong.
The attackers were not caught, and Wong she had to pay all her medical bills. She hopes her attacker would be arrested and learn that anyone who breaks the law will be brought to justice.