Attacks on Hong Kong bus services criticized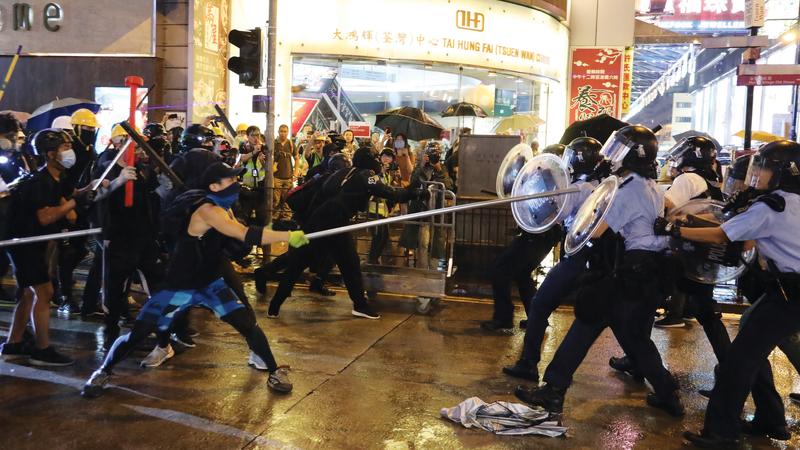 Hong Kong's bus services have become the latest target of "flash mob" style attacks stemming from anti-government protests, as black-clad rioters vandalized about a dozen franchised buses between Monday and Friday.
The city's bus union criticized the vandalism and disruption as showing disregard for people's lives.
The damaged buses, mostly double-deckers, had windows spray-painted or broken or tires blown out from sharp items scattered on roads by radicals, officials said.
On Wednesday night, police were called to Mong Kok in a case in which radicals pushed the emergency engine stop button on the outside of three buses.
While the vandalized buses were in service, witnesses said they were not in motion when damaged.
Lai Siu-chung, director of the Motor Transport Workers General Union's KMB branch, said passengers on board could be unnecessarily placed in danger of falling and possibly breaking bones if someone presses an emergency engine stop button on a running bus.
It could be even more dangerous if a moving vehicle were to have its windshield covered in spray paint, said Lai, adding that that could cause a driver to make an abrupt turn onto the sidewalk, threatening passersby.
Wong Kei-chung, acting chief inspector of Police Traffic Branch Kowloon West, said disrupting public transportation can be very dangerous for passengers, other road users and the perpetrators themselves. Resulting route changes can also create traffic chaos.
Barrister Albert Luk Waihung said radicals who willfully obstruct bus services could be charged with disrupting public order, an offense punishable by up to 12 months in jail. The more serious charge of criminal damage is punishable by up to 10 years' imprisonment.
Before the attacks on buses, rioters also had targeted the city's subway operator, Lai said.
Hong Kong's sole operator of railway services, MTR Corp, which has been the biggest target of vandalism during the city's six months of unrest, has said that this year its profits would drop by HK$1.6 billion ($205 million) from repair costs for damaged facilities, loss of ridership and other disruptions.
On Thursday evening, two people in Yuen Long were attacked by about 10 people armed with machetes and batons, police said. One of those attacked was reported to have been left in serious condition, while the suspects escaped.
In another case in the early hours of Monday in Yau Ma Tei, a driver and a passenger were pulled out of a van and left with serious gashes in an attack by two armed men who jumped out of two vehicles that stopped the victim's van.