Last surviving veterans record indelible accounts of historic battle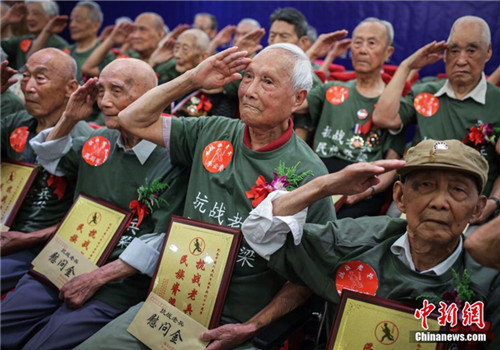 A private museum in Nanjing, capital of Jiangsu province, interviewed over 1,500 veterans involved in the Battle of Nanjing in 1937 and released videos of 14 of them to remember history and honor the dead.
After the Japanese army captured the city, the invaders killed more than 300,000 unarmed soldiers and civilians in six weeks. About a third of the city was destroyed amid arson and pillaging.
Xue Gang, curator of the Nanjing Folk Museum of the War of Resistance Against Japanese Aggression (1931-45), said they were battling the passage of time as they recorded the testimony of veterans around the country.
"No matter how little of a contribution they made during the war, their experiences are treasures of remembrance for us," he said. "We overcame many difficulties to find them, record them and fulfill our responsibility to history and the nation."
Eight of the 14 interviewed, with the eldest 101 years old, died after they were interviewed.
Most of the veterans and Nanjing Massacre survivors have passed away. Thirteen survivors, most of them over 90 years old, died in 2019. The number of registered survivors has dwindled to 78, according to the Memorial Hall of the Victims of the Nanjing Massacre by Japanese Invaders.
"Not all the veterans agreed to give testimonies," said Xue. "Some of them insisted that they contributed nothing, some refused to recall the war and some refused interviews due to their children's opposition."
In the videos, the veterans described their experiences during the war, their families and how they made a living after the war. Many expressed hope for a peaceful future and to never have wars again.
Veteran Zhou Yiyun still remembered how cold the Yangtze River was in December. He said in the video that the river was crowded with people fleeing the city to survive.
The man, 101 years old when the video was made, died soon afterward. Xue said he regrets that he and the team did not have time to help improve his living standards.
Xue has been devoted to caring for veterans for more than 10 years. He started recording them in 2009, even before he joined the museum.
The museum formed a workshop for collecting testimonies in 2010. It worked with Nanjing Normal University in 2015 to find veterans and collect their testimonies. In nine years, workers from the workshop traveled more than 100,000 kilometers to meet veterans and get permission to interview them.
The Chinese government has also recorded the Nanjing Massacre survivors' testimonies in written and video documents. The documents were listed by UNESCO in the Memory of the World Register in 2015.
Guo Jun and Xiang Mengshi contributed to this story.