Arson attacks on HK courts condemned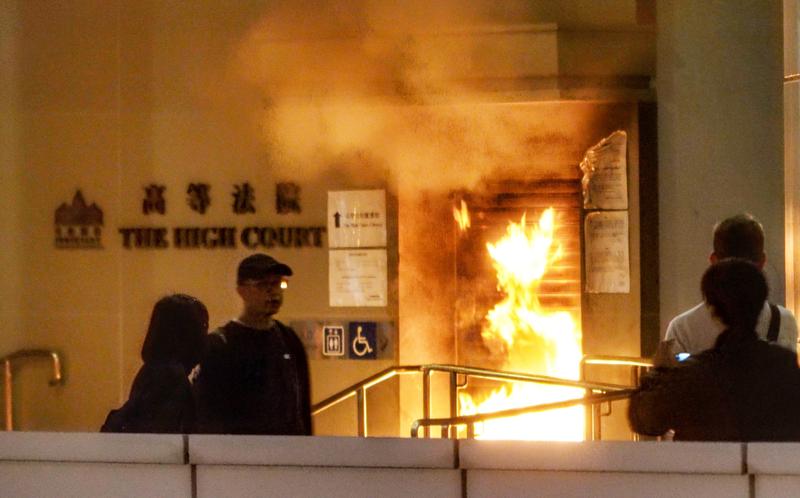 Arson committed by radicals at two city court buildings during Sunday's massive march was widely condemned as acts that seriously challenged the rule of law — a cornerstone of Hong Kong.
The Department of Justice of the Hong Kong Special Administrative Region government said it won't condone any acts of violence.
The department denounced the arson attacks in a statement it issued hours after radical protesters hurled gasoline bombs at the High Court and the Court of Final Appeal buildings in Central.
Such attacks have damaged Hong Kong's image as a city that upholds the rule of law, the department said. The SAR government also condemned the arson attacks.
"Anyone attacking or slandering the judiciary would cause great harm to the rule of law and will not be accepted by society. The SAR government issues its strongest condemnation. … And the police must take necessary actions when there are violations against the law," the government said in a statement issued Sunday night.
It urged a joint effort from all of society to curb violence, defend the rule of law, rebuild social order and find a way out of the impasse through dialogue.
Melissa Kaye Pang, president of Hong Kong's Law Society, also condemned the attacks, saying she was "shocked" at the news.
"Venting dissatisfaction by throwing petrol bombs at court buildings and vandalizing properties in their surroundings is wholly unacceptable. Those who commit these criminal acts must stop taking the law into their own hands," she said.
Pang said she believes in the rule of law, and "Hong Kong has to stand up for it".
Dennis Kwok Wing-hang, a lawmaker from the opposition camp, said he "regretted" the attacks.
He said no one should commit an act that targets the judiciary, no matter what cause he or she might have.
The fires were set at the entrances of both courts, and both were extinguished before they reached the interior. Someone sprayed the message "The rule of law is dead" in Chinese on the wall of the High Court Building.
The attacks were committed during a mass authorized march on Hong Kong Island, as hundreds of thousands of protesters poured out onto the streets of Causeway Bay and Wan Chai on Sunday afternoon.
Police said 183,000 people participated in the march at its peak, while organizers had earlier claimed 800,000 were involved.
The march began peacefully, but tensions escalated as the stand-off between rioters and police continued into the evening.
During the protest, rioters also sprayed slogans on the Bank of China Tower, the building in Central that serves as Bank of China's headquarters in Hong Kong. One slogan on the wall said in Chinese: "If we burn, you burn with us."