Fraudsters swap life of crime for commerce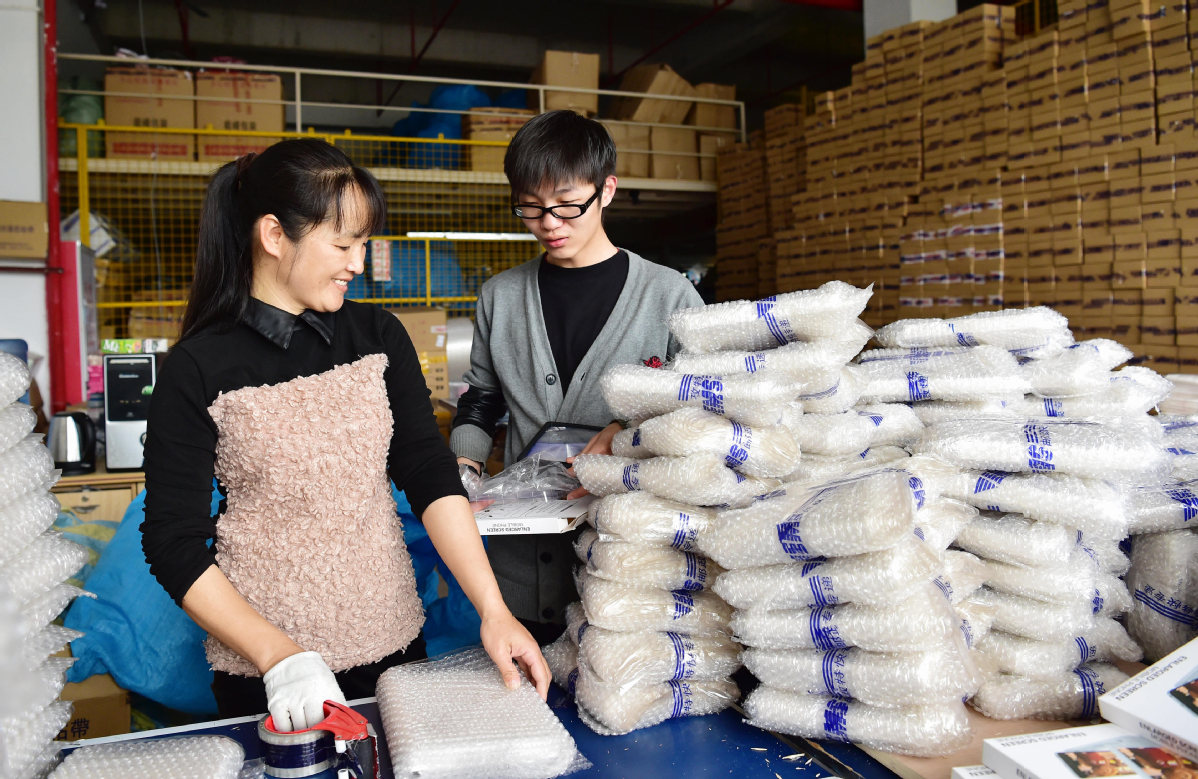 A southeastern county is promoting a new approach to help offenders turn their lives around by training them to open online businesses. Hu Meidong reports from Anxi, Fujian, with Zhou Huiying in Harbin.
Nine people in Fujian province who had been convicted of telephone fraud breathed a sigh of relief when the judge announced their fate: They would be released on supervised reprieve if they promised to renounce crime and become productive, law-abiding citizens.
The nine, who were sentenced in 2016, are among about 300 offenders from Fujian whose convictions for telefraud have been set aside in recent years. In exchange for lenient treatment, they agreed to participate in a training program in which they would learn to start online businesses.
The decision was a turning point for the ringleader, 33-year-old Zhang Qiang from Shangqing town in Fujian's Anxi county.
"Standing in court, my mind was completely blank because of my unknown future," he said. "When I heard the sentence, I was relieved and a little excited. During my days in detention, I had reflected a lot and sincerely repented for what I had done."
The names of the offenders in this story have been changed because of their concerns about widespread public condemnation. They agreed to tell their stories on condition that their real names were not used.
For Zhang, the transformation from criminal to upstanding citizen involved deep self-evaluation, admitting his errors, dealing with his shame and openly resolving to do better.
Bad reputation
Anxi is best-known for a green tea called Tieguanyin. However, it also has a reputation among law enforcement authorities as an incubator of telecom fraud. In a widely reported case in 2016, the death of an 18-year-old woman who was about to enter college was attributed to stress after fraudsters took her limited tuition money. Five of the six suspects came from Anxi.
Zhang knew that telefraud was wrong and that it would hurt other people. But when his tea business failed in 2014, he led some friends from Anxi into it, rationalizing that life had dealt him a bad hand and there was no other way to support his wife and two children-a 10-year-old son and 9-year-old daughter.
He dreamed of making easy money, but he lived in fear of getting caught. Only when he was arrested did his mistake finally, forcefully, hit home.
Before the trial, Zhang spent 11 months in a detention facility with his accomplices, thinking about the choices he had made in life. He recalled how he and his associates lived together in a rented apartment and how-after buying information about disabled people and motorcycle owners-they would place phone calls claiming that the government had offered subsidies of about 2,000 yuan ($284). They told people that to get the money they would have to make a matching deposit in a bank account. After that, both the deposit and the subsidy would be handed over.
Of course, the victims never heard from them again.
Five months into the scam, Zhang and his accomplices were arrested in Shantou, Guangdong province, and eventually stood glumly together in court as they faced justice.
Zhang was sentenced to three years in prison, suspended for five years, and fined 50,000 yuan.
He had to pay 10,000 yuan to his lawyer, and on top of that, the court ordered restitution, so he needed another 50,000 yuan to recompense his victims. However, he had already spent all the money and was broke.
After his release, he encountered another problem: "I had told my family and friends that I was looking for a job in Guangdong. They didn't learn the truth until I was arrested. I didn't know how to face them because I was so ashamed."
He said his relatives tried their best to borrow the restitution money from family and friends. He gave it all to the court.
"The process made me feel even more regretful and ashamed. I had not only failed to improve my family's life, but actually increased their burden," he said.