'A masterpiece cultivated for billions of years'
Share - WeChat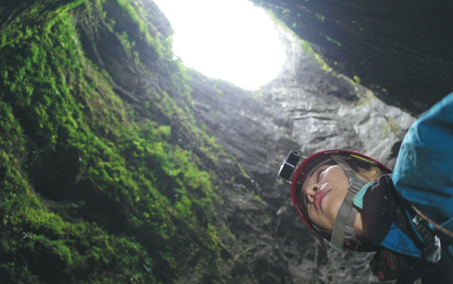 An international team of cave explorers discovered a cluster of karst sinkholes in the Guangxi Zhuang autonomous region during an expedition from Nov 24 to 30.
The 30-member team, which included cave explorers from China, France and Belgium, found two giant karst sinkholes and more than a dozen smaller limestone caves in mountainous Donglan county.
"The biggest one we discovered is more than 300 meters deep and can be listed among the world's 50 largest karst sinkholes. We spent two days descending to reach the bottom," said Chen Lixin, leader of the Chinese explorers.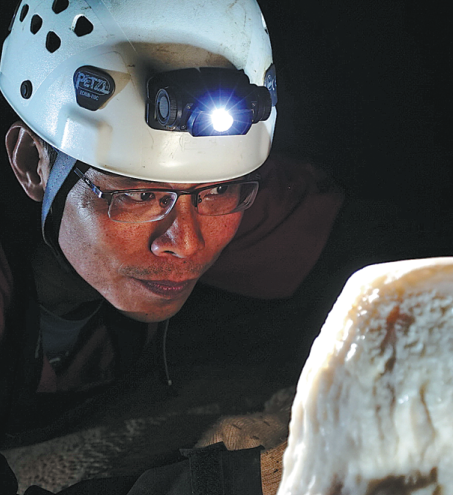 Situated on the top of a 700-meter hill, the entrance of the sinkhole was hidden by dense forest. The cavers caught a glimpse of it by using a drone.
"Together with several French speleologists, we cut a path through the bushes on steep rock formations and descended on ropes like geckos," Chen said. "The hole is so unexpectedly deep that we had to suspend exploration on the first day since both the batteries of our drills and the ropes were used up."
After descending on the ropes for seven hours on the second day, Chen's team members reached the bottom of the sinkhole.
"The exploration of the world-class sinkhole is full of thrills and challenges. However it was worth it as we witnessed and learned extraordinary skills of cave exploration from the French cavers," Chen said.
With the help of the drone, French speleologist Jean Bottazzi found another sinkhole. At the bottom of the sinkhole, which is about 270 meters deep, he was puzzled by some unusual things-a tomblike rock pile, some carved wood and unused firewood.
Bottazzi estimated these objectives might be over 100 years old. He said he wondered how people could get there without the help of modern caving equipment, as no another entrance was found.