Chairman's big gamble pays off as firm now looking Wey out west
Share - WeChat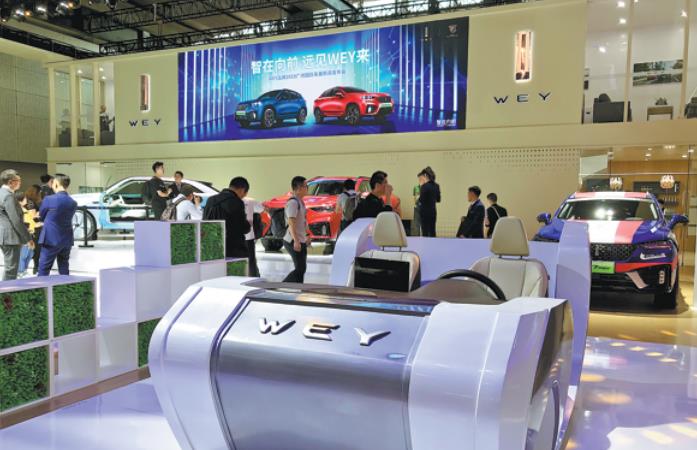 When Great Wall Motors Chairman Wei Jianjun launched the Wey brand of vehicles, inspired by the Romanization of his family name, at the 2016 Guangzhou auto show, few believed it would survive let alone thrive and compete against brands like Volkswagen and Toyota.
Analysts cited the ferocious efforts of international brands to expand their market share in China, the world's largest car market. Especially as Chinese customers had a preference for overseas brands, particularly in light of a slowdown in the market.
Back then Deutsche Bank said it was doubtful that Great Wall's new line would be successful, and it suggested "holding" onto China's most popular SUV maker in the Hong Kong stock market and "selling" in the Shanghai market.
Despite all the factors that conspired to stand in its way, the brand based in Baoding, a small city in Hebei province, has found its place in the market.
Since the first model was launched in April 2017, over 300,000 vehicles that bear Wei's name and a flag mast, a symbol of Baoding dating back to imperial China, have been sold in the country.
"Wey has been the fastest brand to sell 300,000 vehicles among China's high-end brands. We have gained a footing in the segment that has been dominated by international brands," said Wei.
Late last month, two days ahead of the 2019 Guangzhou auto show, the 55-year-old that built China's largest SUV maker out of a garage announced another move, which seemed equally as bold as the one three years ago, if not more so.
"We will enter the European market in 2021 and North America in 2023. There, Wey will take Audi, BMW and Mercedes-Benz head-on in terms of new energy vehicles," said Wei.
Now Wey has spun off from Great Wall Motors as an independent company and has Wei as its chairman. He vows to make the most of the group's resources including its global research and development network to boost Wey's competitive edge.
He said all Wey models will have electrified versions, ranging from hybrids to plug-in hybrids and fully electric in 2021. The first hydrogen fuel Wey model will hit the market in 2022.
In terms of smart functions, he said Wey will offer commercialized Level 4 autonomous functions by 2022, adding that Level 2 functions are already available in its models.
"Our goal is to build Wey into a globally leading smart premium brand, with annual sales of 300,000," said Wei.
Yale Zhang, managing director of Shanghai-based consulting firm Automotive Foresight, said it is natural for successful Chinese carmakers including Great Wall to launch high-end brands and they now stand a good chance.
"The timing is good. As the car market is slowing down, customers are less willing to pay for traditional premium brands' storied history but are more concerned with value for money," he said.
Zhang said Wey can learn from the success of Japanese premium brands including Lexus when it goes overseas.
"Lexus was a new brand when it was launched in the US. But over the years its quality and service has made it the best-selling brand there. Wey can take it as an example and offer high-quality cars and services that are premium but affordable," he said.