Wumart, Dmall, Metro tie up to benefit all
Share - WeChat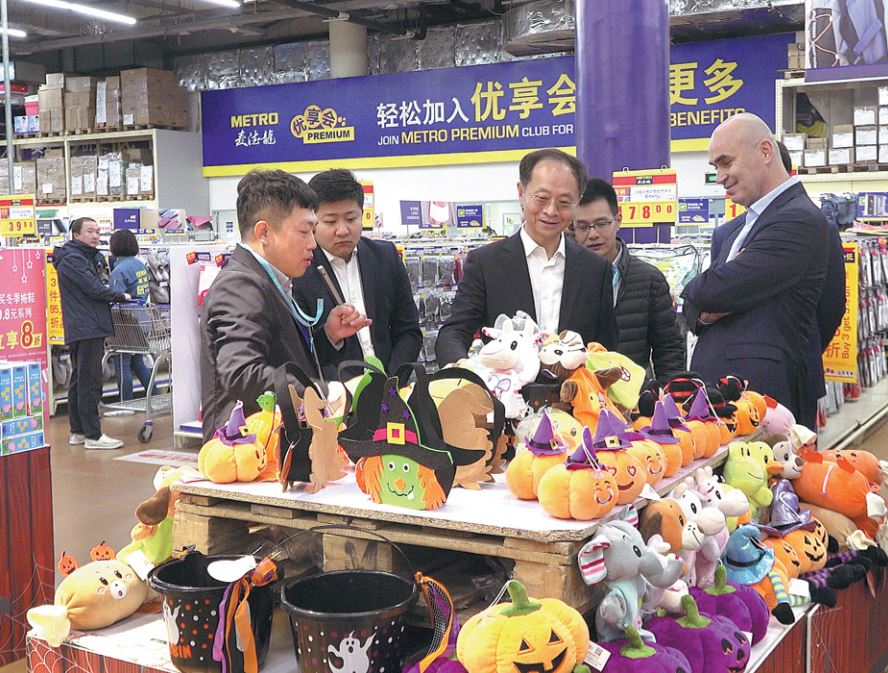 Retailers and wholesaler's cooperation to increase product diversification, bolster food quality and safety standards
It is a common practice for retailers to check out the stores of their competitors to compare prices, layouts and payment systems.
But for Wumart Technology Group Co Ltd, a Beijing-based retail giant, and Metro Group, a German wholesaler, who announced last month that they will form a joint venture, such visits have provided a valuable learning experience.
Claude Sarrailh, CEO of Metro China, who is as tall as an NBA basketball player, was highly visible at the Wumart Lianxiangqiao store during his visit to Beijing recently.
Sarrailh and his Metro team have shown enthusiasm for the digitalization of Wumart stores and the application of Wumart's Dmall digital platform. Constantly inquiring about delivery costs, fresh goods, and storage use, Sarrailh is interested in the details for further exchange of resources and personnel.
Meanwhile, at Metro's Wanquanhe store, Zhang Wenzhong, founder and chairman of Wumart, was impressed by the sales revenue of Metro's imported wine collection, how fresh meat was processed in the back kitchen - which is visible to customers - and how clear Metro's FSD (food service delivery) routes are.
It looks like a mutually beneficial deal for both parties.
On Oct 11, Metro said it would sell its entire stake in the Chinese operations and hold a 20 percent stake in the new joint venture to be formed with Wumart. The transaction value of Metro China is estimated at about 1.9 billion euros ($2.09 billion).
The move is expected to further consolidate Wumart's position as a national retailer and fuel Metro's growth in brick-and-mortar stores and its digital transformation.