Wumart, Dmall, Metro tie up to benefit all
Share - WeChat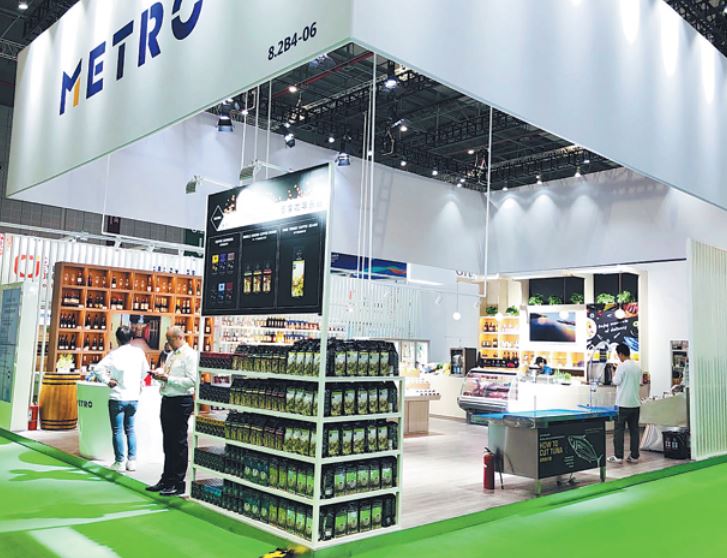 Why find a partner?
Sarrailh told China Daily that the decision to keep a 20 percent stake in Metro China shows confidence in the growth of the business in China.
"The market is full of opportunities in China and will grow much faster as long as we stay true to what we are and to our mission - which is to guarantee food quality and safety," he said.
Sarrailh said the collaboration will increase the diversification of the assortment of products and enhance its business with digitalization and expansion in terms of stores.
Having entered the Chinese mainland since 1996, Metro has 97 stores in 59 cities in China, with more than 17 million registered customers, mostly middle-income consumers.
A profitable business in the country - with a 5 percent earnings before interest, taxes, depreciation and amortization margin for fiscal year 2017-18 - the company has also been a leader in the FSD market as well as in seasonal gifts and welfare solutions.
Its FSD sector has grown at more than 20 percent annually. With 600 professional sales managers, Metro offers one-stop food solutions to more than 33,000 professional customers, mostly Chinese restaurants and canteens.
Its welfare and gifting sector, which has grown 25 percent annually, involves more than 400 professional sales personnel, serving more than 39,000 customers including medium - and large-sized enterprises, government institutions and State-owned companies.
Its business-to-business sector takes up about 40 percent of its sales, but is growing much faster at 20 to 25 percent annually.
While Metro's global focus is on becoming a fully-fledged wholesaler, it has adapted locally to expand its business-to-consumer model in China. This sector has remained flat in terms of growth but accounts for 60 percent of the company's sales due to the rising number of affluent families.
The CEO, who has been in China for one and half years, was candid about why a profitable company was being sold.
"It is a good asset with some limits in scale. At our speed of growth, for a European company, it is fast; for a Chinese company, it is slow," said Sarrailh.
"We recognize we need to find a new partner to grow fast. But it is an important market. we definitely want to profit from the growth here."
Meanwhile, the savvy digitalization of the retail market in China could be applied to their European market as well, said Sarrailh on incentives to keep the 20 percent stake in China.