Cabinet pledges further tax relief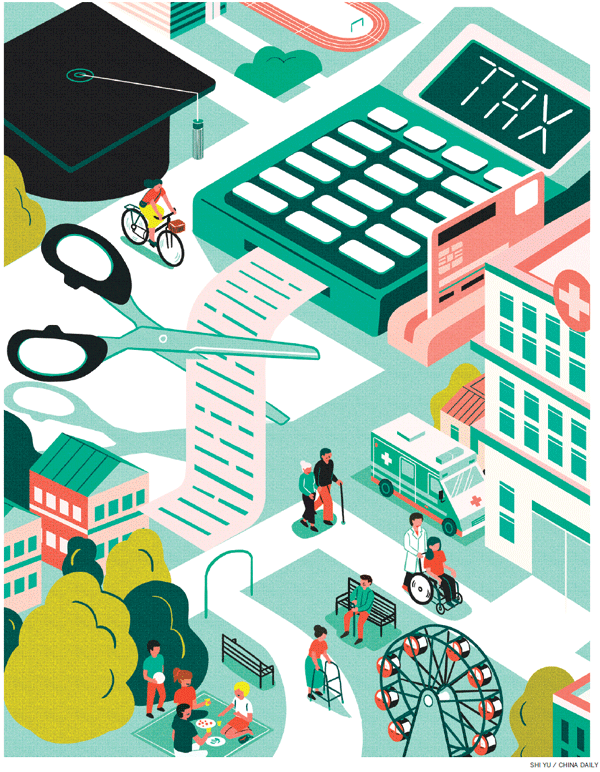 About 250 million taxpayers have benefited from cuts this year
The State Council pledged on Wednesday to continue reducing the tax burden on individuals by improving the individual income tax deduction mechanism, with experts urging more steps to reduce the burden on middle-and low-income groups.
The Cabinet said in a statement after an executive meeting that it had adopted a temporary decision to exempt those whose aggregate annual income is no higher than 120,000 yuan ($17,000) within a period of two years from the obligation to declare the settlement and payment of individual income taxes.
China rolled out steps to reform its individual income tax system last year, with measures including raising the earnings threshold for the collection of income tax from 3,500 yuan to 5,000 yuan a month, adjusting tax brackets and offering new deductions.
Deductions were offered for taxpayer expenditures in six areas: children's education, continuing education, health treatment for serious diseases, interest on home loans, rent, and elderly care.
The Cabinet said in its statement that cuts to individual income tax in the first nine months of this year amounted to over 440 billion yuan, benefiting about 250 million taxpayers.
The Ministry of Finance said last week that fiscal income from individual income tax was down 28.6 percent year-on-year in the first 10 months of the year.
The tax cuts have driven up domestic consumption, with sales revenue from the service sector in the first three quarters of the year up 16.2 percent year-on-year and sales revenue from e-commerce up 16.8 percent, the State Taxation Administration said.