Doctor uses mouth to suck out old man's urine on plane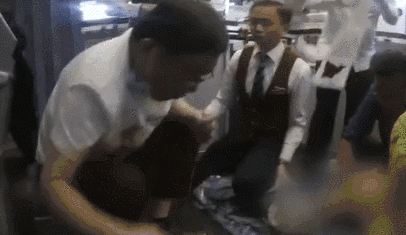 A doctor onboard a flight saved an old man who was suddenly unable to urinate and was at the risk of bladder rupture by sucking his urine out with his mouth and a device made by another doctor named Xiao Zhanxiang.
The Flight CZ399 took off at 1:55 am from Guangzhou and had another six hours of flying before landing in New York. Then, chief attendant Feng Ling received an emergency call from an elderly woman passenger who said her husband was unable to relieve himself and was in desperate need of medical aid.
Feng immediately came to the old man and found he was sweating and moaning in pain. After assisting the old man to lie down on the floor, Feng broadcast on the plane system to ask whether there were medical personnel aboard.
Zhang Hong, a doctor from the First Affiliated Hospital of Jinan University, and Xiao Zhanxiang, a doctor from Hainan General Hospital, rose to the situation at once after hearing the message.
The two doctors asked the old man's medical history and conducted the examination. They were informed that he had prostatic hyperplasia and found that there was about 1 liter of urine in his bladder. If the urine wasn't removed soon, the old man's bladder might burst.
With the spouse's consent, Zhang and Xiao decided to puncture the old man's bladder and drain the urine out with the medical supplies on the plane and the materials at hand.
In three minutes, a urine drain device was made of the tube from the oxygen mask, syringe needle, straw and tape by doctor Xiao. However, the urine didn't automatically flow out via the temporary "catheter" because there was no enough pressure difference.
Facing such urgent situation, Zhang proposed that he could suck out the liquid with his mouth and he did that. Zhang repeatedly sucked out a mouth of urine and spited it into a cup. The process took whole 37 minutes.
With the urine drained bit by bit, the old man gradually recovered. When the plane arrived in New York, the old man got off the plane safely with his wife.
After Zhang's deed was known by the public, many were overwhelmingly surprised that he was willing to suck urine to help the old man.
"I know it's urine and I could feel the stink. But I had no other choice. It all owes to my instinct as a doctor. It's my responsibility," Zhao said in an interview later.
The Sina Weibo hashtag relating to the incident has attracted more than 510 million views on the social media platform as of Thursday night. A large number of people showed their respect to the doctor.
"Even patient's own children might not do it, but Zhang did it. This is so admirable. We all should learn from him," said an internet user.