This Day, That Year: Nov 21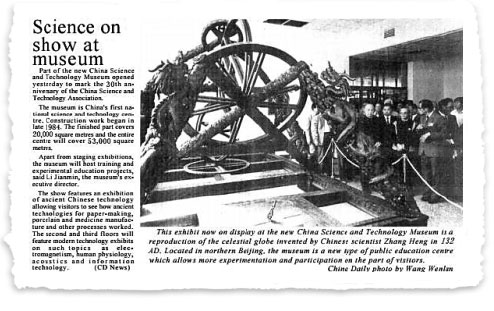 Editor's note: This year marks the 70th anniversary of the founding of New China.
On Nov 21, 1984, construction started on the China Science and Technology Museum in Beijing.
In September 1988, the museum was opened to the public. An item from Sept 23, that year, in China Daily, showed a reproduction of the celestial globe invented by scientist Zhang Heng in 132 AD attracting visitors.
Since then, the museum has been a favorite of residents, especially teenagers. After the round-topped theater opened in 1995 and the museum was expanded in 1990, its eye-catching shape became a well-known landmark in Beijing.
For its time, the museum was the most advanced in China, giving visitors a jaw-dropping experience.
In 2009, a new museum building with a floor space of 102,000 square meters was completed, and the original site was shuttered.
In addition to the new museum, thousands of science and technology museums have been built across the country to increase the public's scientific knowledge and to catch up with developed countries. Beijing hopes to increase its civic scientific literacy rate to 24 percent next year from 18 percent in 2015, according to a plan by the Beijing Association for Science and Technology.
The capital has more than 370 science and technology museums or bases.
The number is 331 in Shanghai. The Shanghai Science and Technology Museum was the most visited museum in the city last year, receiving 3.54 million people.