Symposium experts tout Historic Urban Landscape's value
Share - WeChat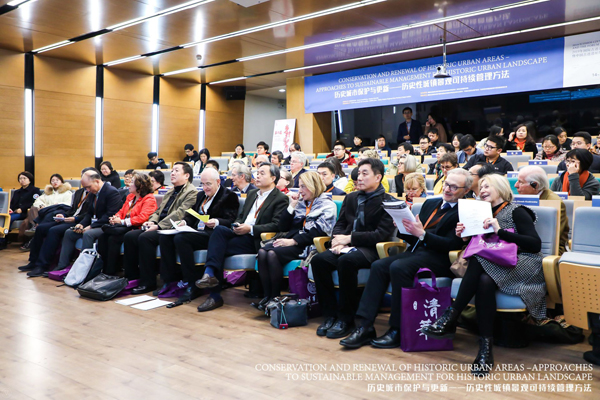 They say rapidly changing cities should work to preserve cultural heritage
The Historic Urban Landscape can be an effective approach to management of heritage resources in rapidly changing cities, experts said at the 2019 ICOMOS CIVVIH Scientific Symposium for Asia-Pacific Region and the Forum for ICOMOS China/CIVVIH from Nov 14 to 15 in Tsinghua University in Beijing.
The event was hosted by the International Committee on Historic Towns and Villages and organized by CIVVIH Asia-Pacific Subcommittee, ICOMOS China, Tsinghua University's School of Architecture and Beijing's Tsinghua Tongheng Urban Planning and Design Institute.
Under the theme "Conservation and Renewal of Historic Urban Areas — Approaches to Sustainable Management for HUL," five sessions were held to discuss the preservation of historic urban areas in terms of theoretical research of HUL, and methods as well as practice of the sustainable management of HUL for the benefit of Asia-Pacific region, according to organizers.
"Codified in UNESCO recommendation, HUL is an updated perspective and method of heritage management dealing with dynamic urban development," said Claus-Peter Echter, chairman of ICOMOS CIVVIH.
Song Haichao, deputy director of the National Cultural Heritage Administration, said during his speech on opportunities for the protection of Chinese historical towns: "Protection of historical towns should focus on three aspects: formulating more specific and operable plans, using the correct concept of protection and integrating protection actions into modern life."
"Architectural design should find its own place, actively communicate with the historical environment, learn from and pass on history. Through dialogue, architecture can also form its own views," said Cui Kai, academician of the Chinese Academy of Engineering.
Following the Chinese conservation experts, former chairman of ICOMOS Australian National Committee Elizabeth Vines offered a guidance of six steps to do a thorough HUL research in a certain area.
The executive member of ICOMOS CIVVIH, Hae Un Rii from Korea, said that cultural heritage is an important indicator to evaluate HUL. "Whether it is tangible or not, cultural heritage is considered a renewable asset, especially in the Asia-Pacific region. We should protect it in hopes of showing its original charm and value back in the period it came into existence. By doing so, we can better promote sustainable urban development," she added.
Moving on to important cases applying HUL, chief planner of Beijing Municipal Commission of Urban Planning and Natural Resources Shi Weiliang said local government has made plans to give the old city of Beijing, the center part of today's Beijing covering 62 square kilometers, a face-lift while protecting its historical flavor.
"One of our plans is centered on Beijing's central axis. We have asked for super-high buildings along the axis that don't match the overall style to undergo overhauls, therefore making all the buildings and landscapes appear to be coordinated," Shi said.
Shi added that Chang'an Avenue, two ring roads and other districts will also be covered in that development plan.
Besides Beijing, attendees have learned about the working examples of HUL in Gongchen Bridge historic district in Hangzhou in Zhejiang province, Le Marais in Paris and Hyderabad in India.
On the last session discussing HUL's management methods and tools, Zhang Jie, chairman of CIVVIH Asia-Pacific Subcommittee and professor at Tsinghua University, said:" The government is not only looking at the big picture — the ecosystem, but also working hard to understand the history behind landscapes."
"Nanjing in Jiangsu province is a walled city. Locals have done well in displaying these walls in sequence and making everyone feel the weight of history," Zhang said.
By the end of the event, vice-chairman of ICOMOS CIVVIH David Logan shared with the participants the initiatives formed on the evening of Nov 14. He noted that in the future CIVVH Asia-Pacific Subcommittee will pay attention to urban heritage protection and will also roll out guidelines for historic villages and towns management.