Self-taught artist has brush with fame at 80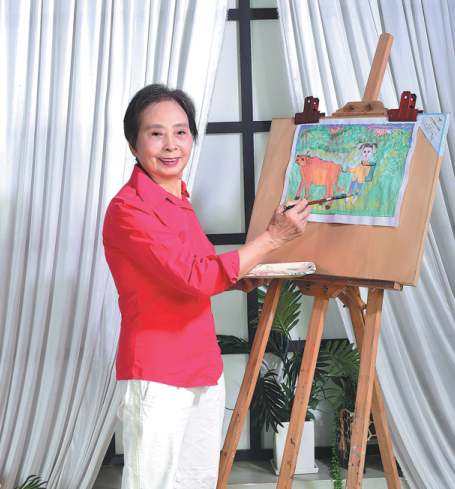 After learning to paint only five years ago, an 80-year-old retired village teacher had her artwork displayed at Beijing's renowned 798 Art Zone in September.
Yang Peilian from Ningxiang, Hunan province, is self-taught, but her paintings in a naive style have received favorable comments from critics and professional painters.
Du Dakai, professor of art and design at Tsinghua University, said that her work showed "heavenly" clarity along with childlike fun. Yan Xinyuan, a folk artist, said Yang's paintings display precise attention to depictions of daily life while maintaining a spiritual quality.
Yang has produced about 300 oil paintings. She favors flowers, animals, childhood images, nature and scenes from fables as her subjects.
"I am old and had no work to do after retirement. I had to do something to enrich my everyday life; that's the proper way to live," Yang said.
Born into a large, poor family, Yang is one of the four girls and two boys. Her parents were farmers. Despite her impoverished upbringing, she received seven years' education and became a primary school teacher of literature and math and then a principal in her hometown.
She had one girl, Liu Qunwei, and two boys. Liu teaches literature at Capital Normal University in Beijing. Yang's oldest son works in education in Changsha, Hunan, and her younger boy is a painter and designer.