Paella for one: Barcelona for the solo traveler
Share - WeChat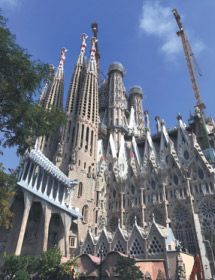 They were on girls' trips, guys' trips, family vacations and honeymoons. And then there was me.
If you're taking a solo trip for the first time, a European city like Barcelona is a good place to start. The city is dynamic. The streets and cafes are always packed. It's safe to walk around at night. And most people speak English.
Barcelona on your own means meandering the Gothic Quarter's narrow streets or the Eixample neighborhood's high-end stores and 19th-century architecture at your speed. There's also no judgment when you stop for gelato or churros and chocolate twice a day.
Here are some must-dos and need-to-knows for navigating the city solo.
Eating alone
The toughest part about on-your-own journeys can be mealtime.
Cafes and bars - the kind where most people grab tapas and wine - are everywhere and bustling.
While tapas let you sample delicacies like cod croquettes and calamari, you don't have to miss out on the paella that's usually for two or more: Chefs will make a solo serving of the rice dish.
Save most of your appetite for Spain's traditionally large lunch. The menu del dia will give you three courses and beer or wine for 10 to 20 euros ($11-$22).
Walk it off
You'll now have plenty of fuel to hoof it 19 kilometers a day and truly breathe in the city.
Many sights are blocks apart, including Anton Gaudi's iconic Casa Batllo and Casa Mila - his wavy, mosaic-encrusted modernist buildings on the bustling Passeig de Gracia shopping street.
It only takes 10 minutes between his as-yet unfinished masterpiece, the Basilica de Sagrada Familia, and the unmissable Sant Pau Recinte Modernista, a working hospital until a decade ago that was designed by Gaudi's teacher, Lluis Domenech I Montaner.