Classical ties deepen
Share - WeChat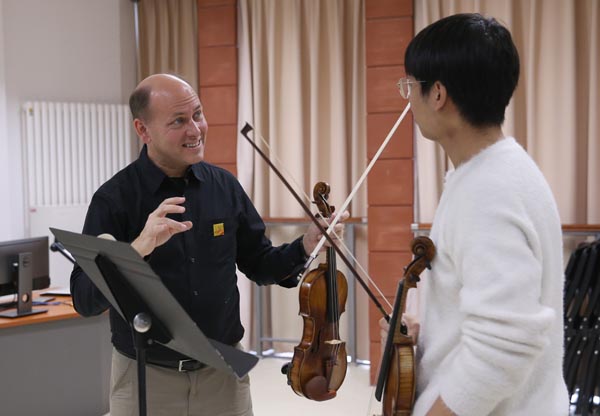 Philadelphia Orchestra, China Conservatory of Music unveil a program to boost exchanges between professional musicians and students, Chen Nan reports.
When Zhang Yueyang played the first movement of Pyotr Ilyich Tchaikovsky's violin concerto, he was facing only one audience member-Paul Roby, the associate principal second violin of the Philadelphia Orchestra.
In a classroom at the China Conservatory of Music in Beijing, Roby from time to time accompanied Zhang's performance and stopped Zhang to offer him suggestions.
"You have to be careful about the tempo sometimes," Roby tells Zhang, an 18-year-old student of the conservatory's orchestral instruments department. "You should connect with the sound, always."
"I am not good at the romantic and softer passages in the piece. I am still digesting the class, but I'm finding it inspiring," says Zhang, born in Anyang, Henan province, who was introduced to music by his composer father and began to learn the violin at the age of 5.
On Friday morning, Roby gave master classes to three Chinese students and in the afternoon, he joined in the rehearsals for a concert, which was held on Saturday, featuring musicians from the Orchestra Academia China, an ensemble affiliated to the China Conservatory of Music. He played alongside three other musicians from the Philadelphia Orchestra-violist Meng Wang, principal cello Hai-Ye Ni and violinist Mei Ching Huang.
The concert concluded the four American musicians' most recent trip to China as part of the Philadelphia Orchestra's residency tour, which set out to "further the orchestra's commitment to people-to-people exchanges through music", as Matias Tarnopolsky, president and chief executive officer of the orchestra, outlined in Beijing on Friday.
The weeklong trip to China also saw the four musicians of the Philadelphia Orchestra visit Shanghai, where they took part in a series of coaching sessions and master classes at ShanghaiTech University from Nov 11 to Wednesday.
"Unlike the students of the China Conservatory of Music, who are classically trained musicians, the students of ShanghaiTech University mostly majored in science. They study music as amateurs and enjoy performing as a way of relaxation," says Roby, who joined the Philadelphia Orchestra in 1991. This was the first time that he held master classes in China, where he presented his Chinese students with a souvenir badge to commemorate the orchestra's tour of China as a gift in May.
In 1993, the violinist, who graduated from the Curtis Institute of Music in Philadelphia, toured with the Philadelphia Orchestra to China for the first time. With a performance at the Great Hall of the People in front a full house of around 10,000 people, Roby was impressed by how Chinese audiences appreciated music and over the years, returned to China with the orchestra on several occasions and witnessed the country's growing appetite for classical music.