Chinese businessman receives French govt honor
Share - WeChat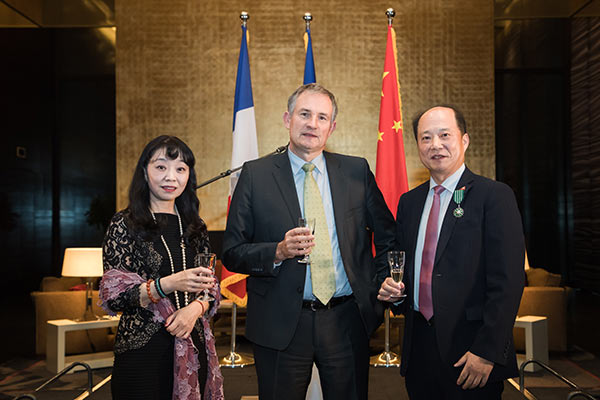 Wang Ke, chairman and general manager of Le Coq Sportif's Chinese franchise, was awarded the Order of Arts and Letters, one of the highest French government honors, in the French embassy in Beijing on Wednesday.
French Ambassador to China Laurent Bili presented the medal to Wang, praising his years-long devotion to promote French culture and sports in China.
Wang returned to China after working in Japan for more than 10 years and established Le Coq Sportif (Ningbo) Co Ltd, the exclusive franchise authorized to produce and sell the 1882-founded French fashion brand's products in China.
In more than a decade, Wang's company has sponsored the Festival Croisement, an annual art festival that promotes Sino-French cultural exchanges.
Besides, the Ningbo-based Le Coq Sportif agency has also sponsored the Fête de la Musique, known in English as Music Day, which drew 300,000 participators and nearly 60 million viewers online in China last year.
Wang has also supported Tour of France's events in China and invited the five-time Tour de France winner Bernard Hinault To Beijing.