President hails Athens ties
Share - WeChat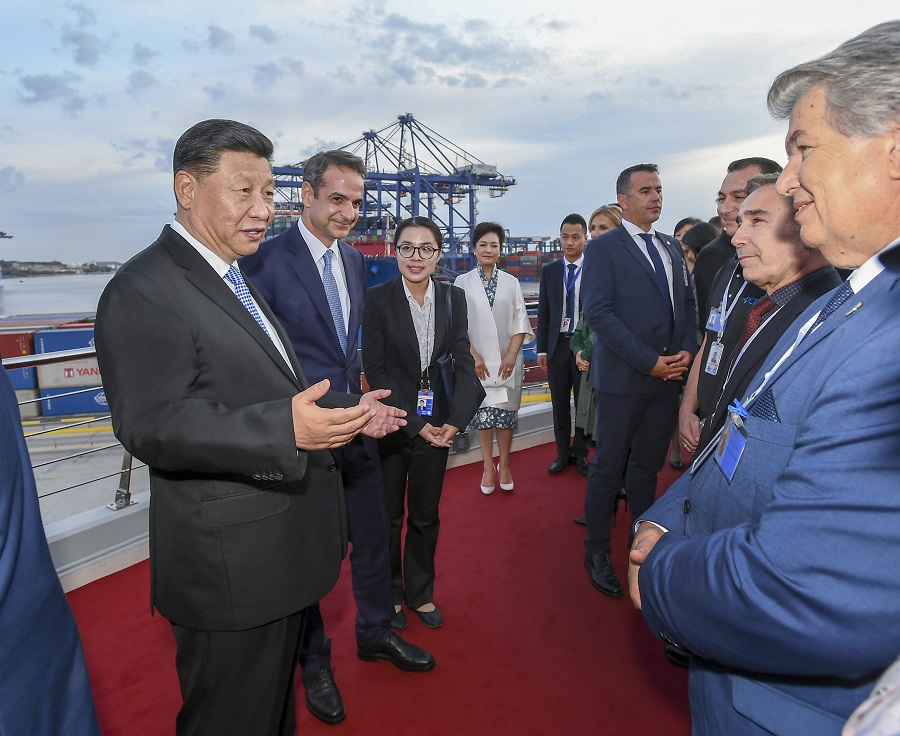 Xi happy to see Mediterranean nation pull itself out of financial difficulties
President Xi Jinping expressed on Tuesday China's resolute support for the Greek government and people to deal with the aftermath of the 2008 financial crisis, saying that China will firmly push forward pragmatic cooperation between the two countries.
He made the remark when meeting with former Greek prime minister Alexis Tsipras in Athens. Tsipras is the leader of Syriza - the Coalition of the Radical Left - in Greece.
Xi spoke highly of Tsipras' efforts at promoting friendly Sino-Greek cooperation during his term and said he was delighted to see the Greek economy pull out of difficulties and move toward recovery and growth.
China-Greece cooperation also achieved important results and realized mutual benefits, especially with progress on the Port of Piraeus project, he said.
Xi said he believed joint construction of the Belt and Road will help Greece to achieve its goal of becoming a regional transportation and logistics hub, boost cooperation between China and Central and Eastern Europe and broaden prospects for Sino-Greek cooperation.
Xi also said he hoped Tsipras and the party he leads will continue to support the development of the bilateral relationship.
Noting that Greece endured a difficult debt crisis during his term as prime minister, Tsipras said that China has extended a hand to help Greece emerge from the crisis.
A friend in need is a friend indeed, he said, noting that the Greek people will remember and feel grateful for China's precious assistance and regard the Chinese people as their true friends.
Tsipras also said he and his party will strengthen party-to-party exchanges with the Communist Party of China and continue to promote the development of Greece-China and European Union-China relations.
On Monday Greek President Prokopis Pavlopoulos hosted Xi and his wife, Peng Liyuan, with a welcoming banquet. Addressing the banquet, Xi described Greece as the home of the origin of Western civilization, and it has had an indelible influence on the progress of human civilization.
Saying the great Greek people gave birth to the Olympics, Xi added that developing China-Greece relations requires upholding the motto of the Olympic Games: "faster, higher, stronger".
He expressed hope that both countries will promote pragmatic cooperation and dialogue between the two civilizations to drive sound development of the comprehensive strategic partnership while making new contributions to world peace and common prosperity.