Photographer finds things really click in countryside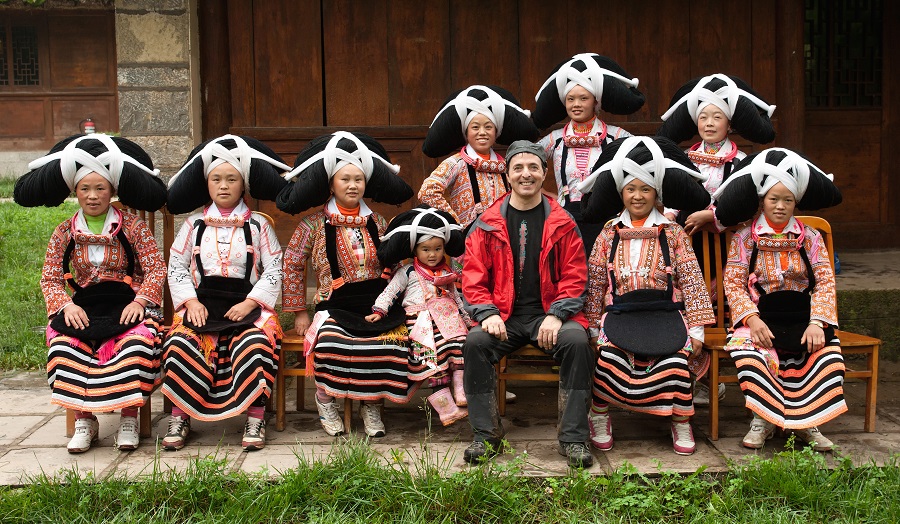 As Chinese tourists increasingly flock to Greece, attracted by breathtaking scenery on islands like Santorini and Crete, George Doupas often heads in the other direction and has made discoveries while backpacking around China with his camera, capturing the diverse beauty of the country.
While satisfying his curiosity about China, the 55-year-old Greek freelance photographer has visited 24 municipalities, autonomous regions, special administrative regions and provinces over the past 10 years, snapping pictures of views ranging from natural wonders to original cultures and local people. And he has especially enjoyed photographing China's ethnic communities.
"There is a force that keeps pushing me to travel to different places and discover new images about China, which never cease to amaze me," Doupas said.
From terraced rice paddies and women with facial tattoos among the Dulong people in Yunnan province, to the starry skies above Chaka Salt Lake in Qinghai province, Doupas has captured many scenes, but his portfolio is largely bereft of photos from urban areas. His interest lies largely in nature and traditional lifestyles.
He gets his ideas for his next destination from a wide range of places, including magazines, videos, subway posters and interesting stories he hears along the way.
These journeys allow him to learn more about China than he can pick up from books and movies, and they let him get closer to Chinese people and to their ways of life.
Doupas first visited China as a backpacker in 2005, when he toured Beijing and Xi'an.
After that trip, he felt a force pulling him back - something that happened again and again.
In 2009, he married a Chinese woman and moved to Beijing, and his passion for photography really took off.
Doupas has photographed Dong people creating traditional costumes, Miao people making headdresses out of the hair of their ancestors as a way to stay connected to them, Uygur people running street barbershops in Kashgar, the Xinjiang Uygur autonomous region, and Tibetan monks reciting sutras in Gonchen Monastery, Sichuan province.
"I like to see people doing traditional work, and I also am curious about how these ethnic groups keep their traditions and customs alive," he said.
Doupas said he likes to photograph ethnic groups as a way to document traditions and cultures that could one day disappear.
Once in Yunnan province, when Doupas and his wife visited a village that specializes in a famous local ham, the couple heard the sound of a bamboo flute and, when they met the player, had tea with him, and it left a deep impression on him.
"We are people from different nations and groups with different skin colors. We should all come closer to each other as we are often too much separated by ideas, beliefs and religion, which create conflict and sadness," he said. "We should learn how to live together and how to learn from and respect each other."