Bob Dylan's visual art makes China debut
Share - WeChat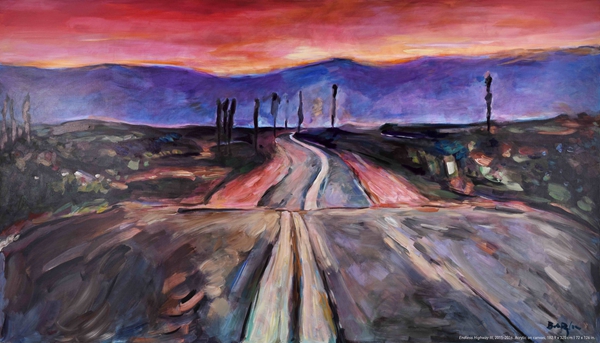 The exhibition "presents Dylan's journey in the visual arts and is an introduction to the artist's singular statue as a singer, songwriter, recording artist and concert performer reflected in iconic elements from his storied career," says Yu.
Among the exhibits are oil, acrylic and watercolor paintings, ink, pastel and charcoal drawings and ironwork sculptures.
Some of his earlier drawings were first published in 1973 in Writings and Drawings, a book that illustrated and compiled Dylan's lyrics. These drawings are shown alongside works from his recent series Mondo Scripto, in which Dylan handwrote and illustrated some of his most renowned lyrics. The exhibition also features his iconic Train Tracks paintings that first propelled Dylan's visual creations to public acclaim.
The industrial ironworks on exhibition are the most rarely seen in public. Created from repurposed objects, these sculptures tell about Dylan's roots in an industrial mining town in the United States.
Dylan was born Robert Allen Zimmerman in Minnesota in 1941. Since his first appearance in the folk music scene at Greenwich Village in New York in the 1960s, the musician has sold more than 125 million records and amassed a body of work, including some of the greatest and most popular songs internationally. He has constantly been on tour since the 1980s, with the latest gig taking place in Europe in the summer. Dylan held his only tour to China in 2011, in Beijing and Shanghai.