This Day, That Year: Oct 31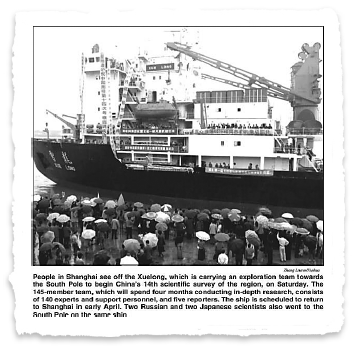 Editor's note: This year marks the 70th anniversary of the founding of New China.
On Oct 31, 1986, transport vessel Jidi set off from Qingdao, Shandong province, marking China's third Antarctic expedition.
Jidi was purchased from Finland as the country's first polar expedition ship. It is not an icebreaker and after six years in service, it was decommissioned.
In 1993, Xuelong, China's first polar research icebreaker, was purchased from Ukraine. It was designed for cargo transportation rather than scientific research operations and converted into a research and resupply vessel. It has carried out dozens of scientific expeditions to the Arctic and Antarctic, as seen in this item from China Daily.
In July, Xuelong 2, the country's second - and first domestically built - research icebreaker, was commissioned, joining its predecessor, Xuelong, in taking the nation's exploration endeavors to new heights.
Xuelong 2 was jointly designed by Aker Arctic Technology in Helsinki, the capital of Finland, and the Marine Design and Research Institute in Shanghai.
Construction began in 2016.
The vessel is 122.5 meters long, 22.3 meters wide and has a displacement of 13,996 metric tons. With a maximum speed of 15 knots, or 27.8 kilometers per hour, it can sail more than 37,000 km in a single voyage and carry out 60-day expeditions with 90 crew members and researchers.
Early this month, Xuelong 2, embarked on its maiden polar voyage.
The voyage is a major part of China's 36th Antarctic expedition, which involves 413 scientists, researchers and support staff.
Since Chinese scientists first set foot in Antarctica in 1984, China has built four research stations - Great Wall, Zhongshan, Kunlun and Taishan, in the region.
The country is building a fifth scientific research station in Antarctica, which it intends to put into service around 2022.
In addition to ships and stations, China is establishing a space-based system for polar observation.
In September, the country's first polar observation satellite was launched.
BNU 1, also known as Ice Pathfinder, is tasked with observing and monitoring climates and environments in the Antarctic and Arctic.