US senators' HK remarks slammed
Share - WeChat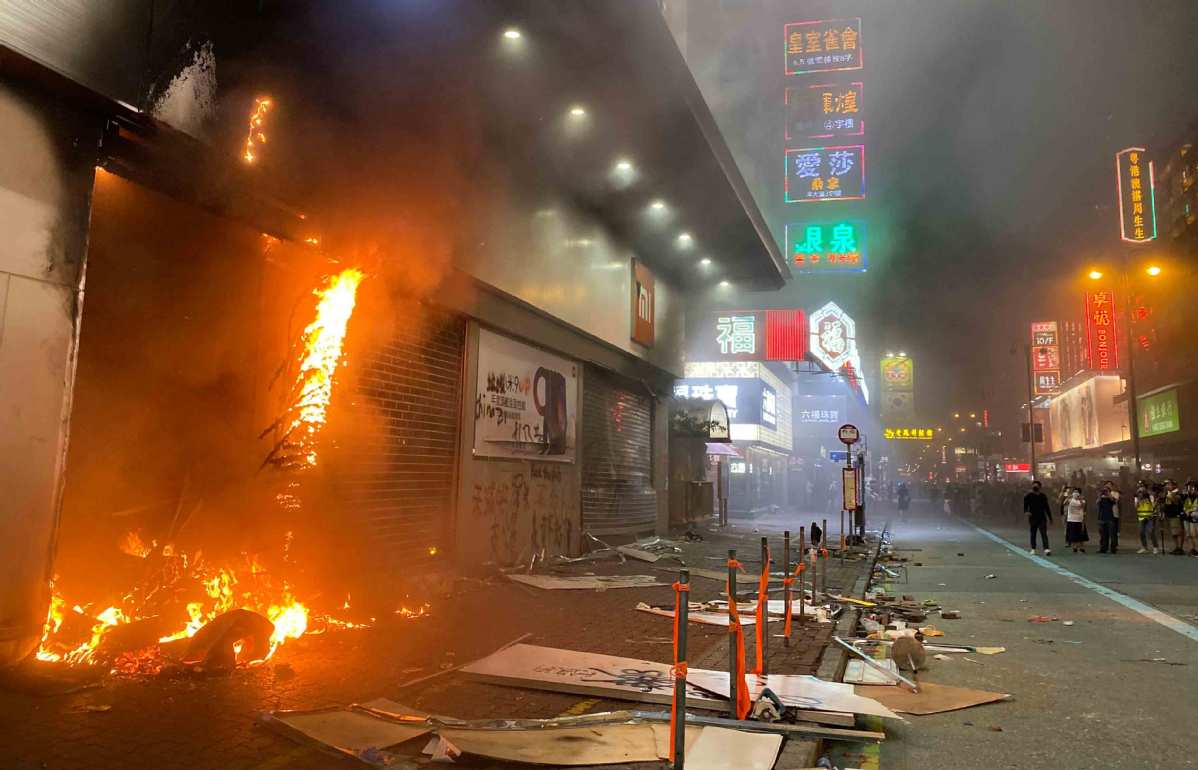 Western media are accused of ignoring interests of the majority
Two US senators and the Western media drew sharp criticism for "ignoring the interests of the majority in Hong Kong" and backing violent protesters in the city, according to letters posted online.
The three letters, written by an unnamed United States citizen living in Hong Kong, denounced US Senators Ted Cruz and Josh Hawley, and CBS news show 60 Minutes. The letters were posted on SG Talk, an online forum in Singapore.
Accusing both senators, who were in Hong Kong during the violence that has gripped the city since mid-June, of making "irresponsible remarks", the letters asked them to "quit using Hong Kong and its students as a pawn".
"I am an American living in Hong Kong and for you to come to this city, claim you see no violence in your short limited time here, and give unquestioned support to those who are destroying this city is an affront to all intelligent law-abiding peaceful people who live here," the letter to Cruz said.
"These protesters you are supporting are violating and undermining all rules of law of this great city. They are clearing a path to anarchy. They are lynching innocent bystanders (who are in fact voicing their freedom of speech in the most basic way), they are destroying anything and everything of a contrary view (and in the most violent way). They are destroying public property everyone in this city depends on. They are committing the most horrendous acts of violence against fellow human beings - yet you support them," the letter continued.
The senators' visits give radicals a false "illusion" that what they have been doing is correct, said Lau Siukai, vice-president of the Chinese Association of Hong Kong and Macao Studies, the nation's leading Hong Kong affairs think tank.
Song Xiaozhuang, professor at Shenzhen University's Center for Basic Laws of Hong Kong and Macau Special Administrative Regions, described the remarks of the two senators as "calling white black" by disregarding violence and vandalism by mobs.
The remarks and the Hong Kong Human Rights and Democracy Act - the legislation which has been cleared by the US House of Representatives and which "directs various departments to assess whether political developments in Hong Kong justify changing Hong Kong's unique treatment under US law" - are both meddling tactics by the US to undermine China, said Song.
Song called on the Hong Kong Special Administrative Region's government to refute the senators' "irresponsible remarks" on the international platform. When necessary, it should restrict the entry of foreign politicians with a hidden agenda, he said.
Hong Kong has been witnessing violence and vandalism by black-clad protesters since mid-June. Many sectors, including retail, tourism, catering and hospitality, have suffered due to a fall in the number of visitors and deteriorating business environment.
In a separate letter, the US citizen criticized the role of Western media during the unrest in Hong Kong.
"Next time do your research before becoming an unwitting (or perhaps witting) enabler of the violence being inflicted on a city, and the majority of people living here - living now in fear - not because of anything China has done, but what the protesters, and those of you who are enabling them - are doing," the letter read.
In an earlier interview with China Daily, New Zealand-born educator and commentator Chris Lonsdale, who has lived in the city for more than 30 years, had criticized Western media for "glorifying violence", which emboldened the radicals.