President encourages PLA logistics force
Share - WeChat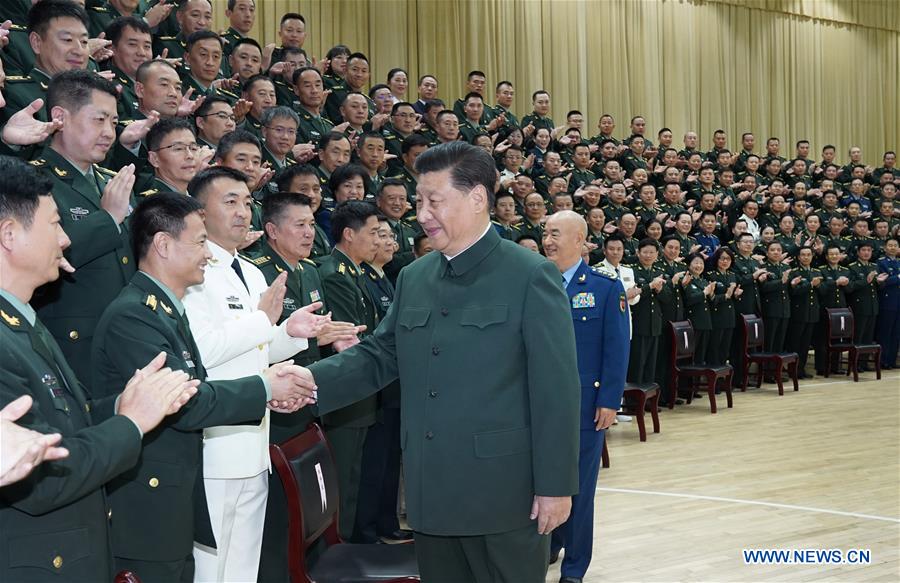 Xi urges senior officers to press onward in effort to reach strong-military dream
President Xi Jinping has encouraged delegates of the first Party congress of the People's Liberation Army Joint Logistic Support Force and senior officers stationed in Hubei province to faithfully perform their duties, push for new progress and contribute to fulfilling the dream of a strong military.
Xi, also general secretary of the Communist Party of China Central Committee and chairman of the Central Military Commission, extended congratulations on Friday on the convening of the congress and sincere greetings to all the delegates and service personnel in the joint logistics support force, Xinhua News Agency reported on Saturday.
At the congress, held on Wednesday in Wuhan, delegates discussed the development of the joint logistics support force since it was established in September 2016 and the plan for the next five years.
The joint support force is a major milestone for deepening the PLA's reform of its command and logistics system. It is the main force tasked with providing modern logistical support-ranging from sanitation to transportation-to the PLA as it transforms itself into a world-class fighting force.
On Oct 1, the 70th birthday of New China, more than 300 logistics personnel from the support force marched in formation for the first time during a grand military parade. Most of them were veterans who work behind the scenes in canteens, warehouses, transportation vehicles and utility rooms.
Logistics tasks like moving troops and materials may seem trivial to non-military personnel, but they are of vital importance to support and sustain military operations. In military strategic maneuvering, the destruction of the enemy's supply lines and guarding one's own supply lines are crucial elements in deciding the outcome of a war.
Last year, the PLA Joint Logistic Support Force conducted a massive exercise, dubbed "Joint Logistic Mission 2018", that tested its logical systems at the heart of China's western highlands with simulated real combat scenarios.
The drill featured tasks such as delivering blood-bags using drones to wounded soldiers at the front line, and setting up refueling depots via helicopters and vehicles at remote terrains, according to the Xinhua News Agency. In the past three years, the joint support force has conducted more than 50 drills with various theater commands and branches of military.