China's first 'floating opera house' sets sail
Share - WeChat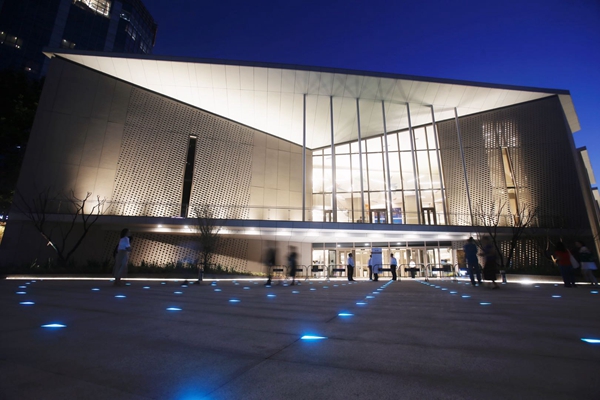 The new Shangyin Opera House celebrated its grand opening on Sept 15 with an original opera production He Luting, one of the most influential composers and music educators in modern Chinese history.
The composer, who was born in 1903 and died in 1999, used to be the director of the Shanghai Conservatory of Music, which manages the new opera house.
According to Liao Changyong, the director of the conservatory, the opening performance which starred students and young scholars at the conservatory, was a means of testing the state-of-the-art acoustic system at the new venue.
Designed by Christian de Portzamparc, a Pritzker Prize-winning architect from France, the eight-story building consists of a U-shaped main theater with 1,200 seats spread across four levels. This design, says Liao, allows audiences to get closer to the stage. The building also has four rehearsal halls, a lecture hall and stage-lifting devices that would allow two productions to be staged at the same time.
The new facility also features the latest soundproofing technology which has greatly enhanced the auditory experience. In addition, the opera house was built on a spring isolator to eliminate vibrations from the nearby metro line. Liao describes the new building as "the first floating opera house in China".
The acoustic system at the opera house can even be adjusted to suit different performances such as symphony, theater, chamber and folk music. It can also be finetuned to cope with the different requirements for opera productions in different languages, such as German, Italian and Chinese. Touch-screen displays have been fitted into the back of each seat so that audiences can read the subtitles of foreign productions.
Liao says that the new opera house marks a major improvement to the hardware of the conservatory and will help the school in its quest to nurture more top-level musicians. The facility will also be introducing opera productions from abroad while creating its own original shows. One of its key objectives is to play a more active role in introducing opera and classical art to the wider public in Shanghai.
"Shanghai now has a new cultural landmark, and people in the city now have one more venue to enjoy good art," says Liao.
During the China Shanghai International Arts Festival starting from Friday, the opera house will host 23 performances by 13 productions. The most high-profile of these productions are two Mozart operas by the Teatro Alla Scala. The Italian company will present La finta giardiniera (The Pretend Garden Girl) on Friday, Sunday and Tuesday, and The Magic Flute on Monday, Wednesday and Thursday.
Most Popular