Colonial-era nostalgia in HK dismissed
Share - WeChat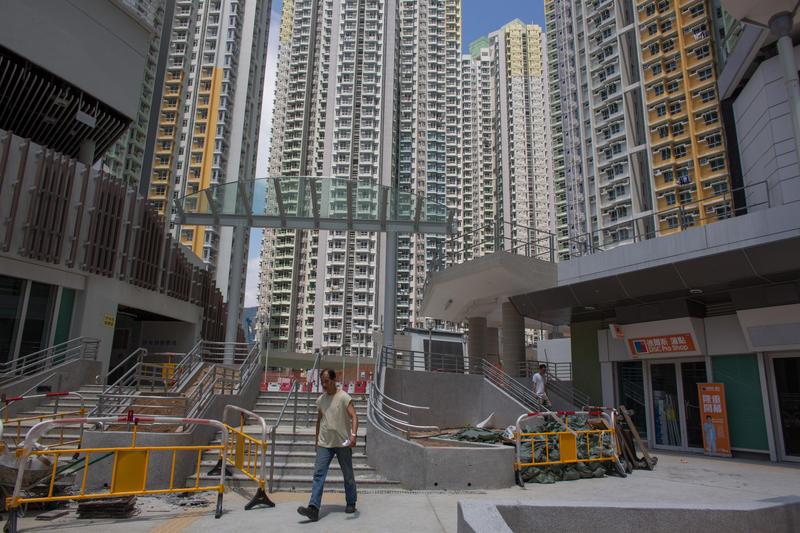 Young protesters don't realize city more democratic now, analysts say
Amid the ongoing chaos on Hong Kong's streets, Britain's Union Jack and America's Stars and Stripes flags have become common symbols of defiance.
Protesters are heard singing God Save the Queen and The Star-Spangled Banner. The aim in either case appears to be to draw the attention of British and US officialdom to the anti-government campaign
Many who possess British National (Overseas) passports are even demanding that the United Kingdom grant them full British citizenship.
One of Hong Kong's most prominent activists, Joshua Wong Chifung, testified in Washington before the United States' Congressional-Executive Commission on China, urging US lawmakers to pass the Hong Kong Human Rights and Democracy Act of 2019. The proposed act was passed on Tuesday by the US House of Representatives and awaits action by the US Senate. The legislation, if passed by the Senate, would require the US president's signature before taking effect.
In an article published by the South China Morning Post on Sept 23, Mike Rowse, the CEO of Treloar Enterprises, wrote that it is fanciful in the extreme to suppose the US would throw open its doors to large numbers of migrants from Hong Kong.
Rowse, former director-general of InvestHK, a department of the Hong Kong government, said: "It is time for some Hong Kongers to forget their dreams that outsiders are going to ride in on white steeds and solve all their problems.
"The reality is, we are part of China, now and forevermore. The Basic Law gives us all that we realistically could want," said Rowse, who has lived in Hong Kong since 1972. He became the first foreigner from Hong Kong to become a naturalized citizen of China after the handover in 1997.
"Our best course of action is to cherish it, and nourish it. If we run into difficulties, the only capital city worth visiting is our own, in Beijing, not Washington, not London or Berlin or Ottawa or Canberra."
Among some, there nonetheless remains a yearning for Hong Kong's days under British colonial rule.
However, Peter Bentley, a Hong Kong permanent resident of British origin who has lived in the city for nearly 40 years, said, "During the British colonial period, which lasted for about 150 years, Britain did nothing to introduce democracy to Hong Kong."
He added that the British government ignored calls for direct elections after World War II.
Mark Aitchison Young, governor of the colony between 1941 and 1947, made a proposal aimed at political reform in Hong Kong in 1946. He called for establishment of a municipal council comprising a majority elected from among the public at large. The proposal was shelved in 1952 under the governance of Young's successor, Alexander Grantham.
"Actually, Hong Kong is much more democratic now than it was when the British were here," Bentley said. "Now things have actually got better in Hong Kong. We have more direct elections, we have geographical constituencies, we have local district council elections which are all one man, one vote."
Lau Siu-kai, vice-president of the Chinese Association of Hong Kong and Macao Studies, the leading think tank on local affairs, said the protesters are not really calling for a return of colonial rule.
"It's more like a tactic," Lau said. "They whitewashed the colonial governance to smear the current administration. This is to pressure the government of the Hong Kong Special Administrative Region and the central government to meet their demands."
Lau said the colonial era was not as good as some claim, whether considering democracy, freedom or the rule of law.
During the greater part of the colonial era, neither the governors nor the members of the Legislative Council were elected by the public. Criticizing the government would lead to stern consequences. There also was racial discrimination, with even the courts favoring Caucasians, said Lau.
Some Hong Kong people give British colonial rule the credit for the city's democracy and freedom. However, Lau said, it actually was not the British colonial government, but the "one country, two systems" policy that guaranteed the democratic rights and freedoms of Hong Kong people.
Lau called for more efforts to help young people in Hong Kong gain a clearer understanding of the relationship between the special administrative region and the motherland. "A good relationship is never a zero-sum game, but always a win-win situation."
Daniel de Blocq van Scheltinga, an adviser on China-related matters to both the private and public sectors, said attempts by the protesters to drag the US and British governments into their orbit are becoming absurd.
"This must be the only occasion in post-colonial history where 22 years after the ending of colonial rule, people are waving the old colonial flags while demonstrating, and acting as if a return to colonial rule would be in the interest of Hong Kong people," said Scheltinga, who has lived in Hong Kong for over 18 years.
"Such a harebrained idea cannot be excused by the fact that most of the protesters are too young to have real experience of the British colonial administration, under which 'democracy' was a dirty word," he said.
The fact that the demonstrations are possible in Hong Kong, and even tolerated despite the protesters' having no permit to do so, is ample proof that the rights guaranteed under the Basic Law are being upheld, Scheltinga said.
It is not difficult to see the remains of British influence in the city, although it has long been handed over to China. English is still widely spoken in Hong Kong and, alongside Cantonese, is one of the city's two official languages.
The city has numerous streets named after British public figures and landmarks. Many of these streets share their name with streets in London. For example, Queen Victoria Street, named after the British monarch who reigned from 1837 to 1901, is a one-way street in Hong Kong's Central district and also a well-known street in London.
Hong Kong follows English common law, in which judgments and legislation together form the law. Education today is still largely modeled on the English system.
Francis Lui Ting Ming, professor emeritus of economics and director of the Center for Economic Development at Hong Kong University of Science and Technology, said the protesters, most of whom have not themselves experienced British colonial rule, glorify it for political purposes.
Since childhood, they have received a defective liberal education, which has been widely blamed for defaming China, Lui said.
He acknowledged deep-seated social problems related to quality of life in Hong Kong, especially skyrocketing housing prices. He said these have hurt young people's confidence in the future, and that with such frustration, they have what he called an unwarranted nostalgia for the colonial era.
Lui urged the government to reform liberal education to help young people get a comprehensive and objective picture of the nation.
In addition, to rebuild confidence, he called for efforts to improve young people's quality of life.
Paul Yeung, a youth political commentator in Hong Kong, cautioned about the negative impacts of such a yearning for colonial rule, which he said has to some degree been overrated and reflects a misunderstanding of some Western values.
Yeung said that in recent years, some ideas, such as democracy, freedom and human rights, which are often highly regarded in Western countries, have become mainstream values of Hong Kong society.
He said he is worried that an emphasis on those values has left little room for other values to exist in the society. Some people holding these values have even attacked others who have views that are different from theirs, he added.
Another factor is that some young people's understanding of these values is superficial, Yeung said, adding that they don't realize democracy has flaws and limits on freedom.
Yeung also said pro-Western sentiments are against China and have fueled separatist concepts in Hong Kong such as "self-determination" and "independence".
A key reason behind such phenomena is a lack of national identity, he said, calling for more endeavors to strengthen Hong Kong people's sense of national identity.
Unlike their mainland compatriots, many Hong Kong people, due to historical reasons, lack memories of developing with the mainland since the establishment of the People's Republic of China, said Yeung, so maybe it is harder for them to share the sense of pride.
Efforts should be made to enable Hong Kong people to see a broader picture of the country and participate in its development, Yeung added.
Meanwhile, protesters have continued taking to the streets, with radicals resorting to violence, even though the extradition law amendment bill that prompted the initial protests has been withdrawn.
To further deter violence, the SAR government enacted a ban on masks in the city on Oct 5, which makes it illegal for people to wear masks at public assemblies for the purpose of hiding their identity. Violators may face imprisonment of up to one year and a fine of HK$25,000($3,190).
Since the new law has taken effect, at least 90 people have been arrested for violating it, according to Hong Kong police.