Hive Box stings users with buggy machines
Share - WeChat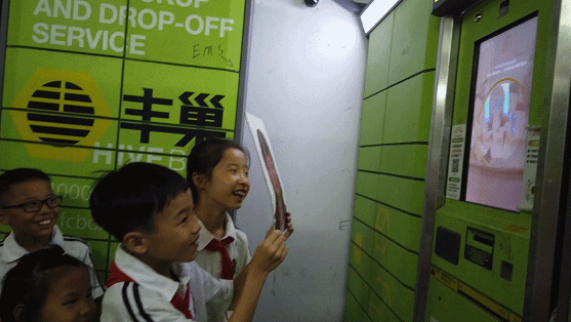 The self-serve package locker Hive Box made headlines again days earlier after it misled users to pay an extra yuan to get their parcels out from the express buffet cabinet.
The takeout pickup machine was also found to have a bug in fetching parcels via facial recognition, as some school students from Zhejiang province opened the locker using the printed photos of parents.
Hive Box announced Wednesday on its Weibo official account plans to debug the machines by making the beta version offline in response to public worries about the safety of facial scanning in pickup and payment.
It is not alone in providing facial scanning for pickup. In March, Cainiao smart lockers under Alibaba logistics unit also launched the function by using cameras to scan users' faces or personal QR codes.
China's two largest mobile payment platforms, WeChat and Alipay, also use the tech for logging in or transactions.
It varies on different platforms as the tech has been divided into 2D and 3D, some experts explained. The Hive Box camera collects facial data and then forms a 2D flat image, equal to a printed photo. It could be easily decoded as it has a lower defined security level.
Meanwhile, WeChat said it utilizes 3D depth-sensing tech to create a safe and secure e-payment environment. That has been tested to resist fraudulent attempts using videos, paper or masks with faces.
Experts also warned users not to copy what some students did to Hive Box while using facial-recognition tech as a caution. The incident has also reminded the public of privacy concerns.
Earlier in September, a Chinese face-swapping app Zao that lets users superimpose their face on those of celebrities and produce synthesized videos and emojis shared some similarities with the Hive Box. And it also later triggered enhanced regulatory oversight on data security and led to the app getting banned across online stores.