Closer Sino-Indian ties bode well for all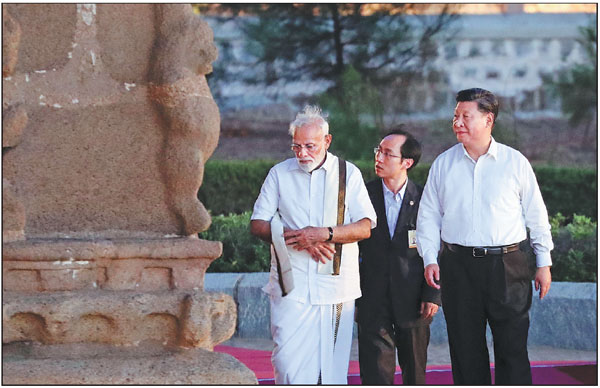 Stronger partnership in new era gets boost from Xi, Modi meeting
China and India could work together to build an even closer partnership in the new era as the countries' leaders reset their relations through the just-concluded informal meeting in the coastal city of Chennai in southern India, officials and experts said.
President Xi Jinping and Indian Prime Minister Narendra Modi held in-depth discussions on bilateral, regional and international issues of "overall, long-term and strategic" importance in their second informal meeting, Deputy Foreign Minister Luo Zhaohui told reporters after the meeting.
Xi called for further building strategic mutual trust between the two neighboring countries and defusing their differences through communication. He said it is the only correct choice that the Chinese dragon and the Indian elephant dance together, as such a choice conforms to the interests of both countries.
Xi also urged earnest efforts to raise the level of the countries' military exchanges and security cooperation to enhance mutual trust between the two militaries to safeguard regional security and stability.
Modi said that given the uncertain international situation, maintaining stable development of India-China relations is positive and significant to the two countries as well as the world. He underlined the need for the two countries to consider each other's major concerns and properly manage and control their differences to prevent differences from turning into disputes.
The two leaders reaffirmed that both sides will continue to remain committed to upholding peace in the border areas, and will also jointly discuss and work out more trust-building measures, Luo said.
The second informal meeting came amid some thorny issues in bilateral ties such as boundary disputes and trade imbalance. It also took place at a time when the regional and international landscapes are undergoing complex changes.
Ruan Zongze, executive vice-president of the China Institute of International Studies, said that understanding each other's strategic purposes and properly managing differences is crucial to the relations between the two neighboring countries.
Strengthening strategic communication will help build mutual understanding and trust between them, and this in turn will help defuse differences and ultimately stabilize the bilateral ties, Ruan said.
During the meeting, the two leaders decided to set up a new high-level mechanism for trade and an economic dialogue to strengthen bilateral trade and investment to further promote trade balance.
In terms of economic links, China is eager to invest in India, while India wants greater market access to China and action by Beijing to address the trade imbalance. It was agreed to expand imports of rice and sugar from India.
In addition, Xi told Modi that Beijing welcomes investments from Indian pharmaceutical and information technology companies.
Stanly Johny, international affairs editor of The Hindu newspaper, wrote in an article that the avenues of economic cooperation between the two countries are still wide open. "They could come up with a plan to take economic ties to the next level, addressing mutual concerns," Johny wrote.
Both Xi and Modi emphasized the importance of a rules-based global trading system as well as cooperation between China and India - both being the pillars of emerging markets and champions of multilateralism - on important regional and global issues.
Sujan R. Chinoy, a China expert and director general of the New Delhi-based Institute for Defence Studies and Analyses, said India and China must work together to forge stable relations in which competition does not lead to conflict, or differences to disputes.
The first informal summit between Xi and Modi took place in Wuhan, Hubei province, in April last year. The meeting helped calm tensions arising from a standoff between the two militaries in the border area and rebooted bilateral ties.
As Xi and Modi agreed to hold the next informal meeting in China, experts said the informal nature of the leaders' meeting would continue to deepen contacts at the highest level and guide the future trajectory of China-India ties.
Xi's three-day tour of South Asia also brought him to Nepal, where the two countries agreed to upgrade their relations to a strategic partnership of cooperation featuring everlasting friendship for development and prosperity. Xi's state visit to the country was the first by a Chinese president in 23 years.
China and Nepal will step up development of a connectivity network across the Himalayas and advance cooperation on the joint building of the Belt and Road, Chinese Ambassador to Nepal Hou Yanqi was quoted by Xinhua News Agency as saying.
Qian Feng, a researcher at the National Strategy Institute at Tsinghua University, said Xi's visit helps cement the neighbors' bonds and enhances their cooperation.