Solomon Islands PM's visit called milestone
Share - WeChat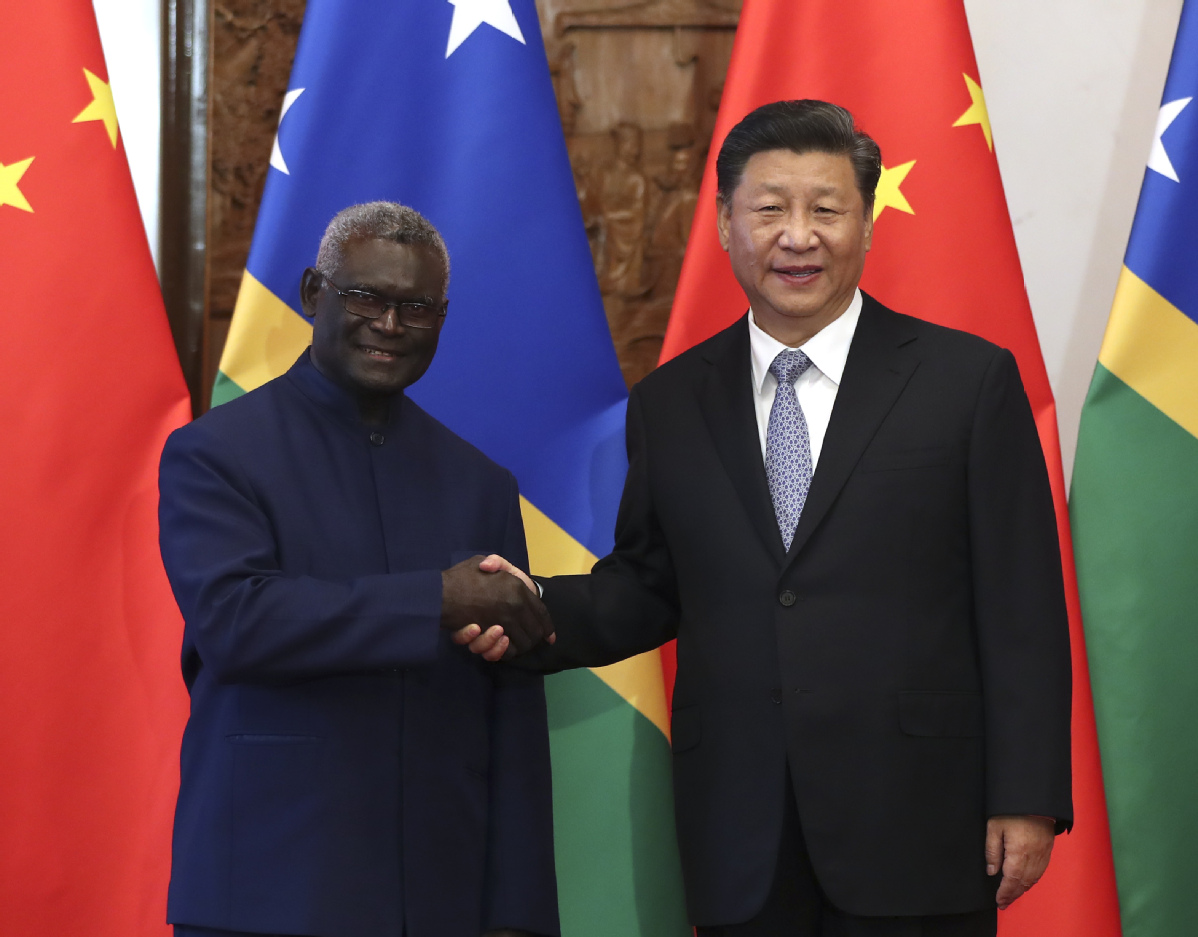 President Xi Jinping said on Wednesday that the establishment of diplomatic ties between China and the Solomon Islands is "a good thing that conforms to the trend of the times and benefits the people of both countries".
He made the remark when meeting with the Pacific island country's Prime Minister Manasseh Sogavare in Beijing.
Sogavare's official visit to China, from Tuesday to Sunday, comes after the two countries established diplomatic relations over two weeks ago.
Calling Sogavare's visit a milestone, Xi said that friendship never arrives late and the future of bilateral ties between China and the Solomon Islands will surely be promising.
Xi said that as the country is located within the extended area of the 21st Century Maritime Silk Road, the two nations should seize the opportunity brought by a memorandum of understanding on jointly building the Belt and Road, which was signed on Wednesday, to expand cooperation. He called on China and the Solomon Islands to further align their development strategies to help improve people's livelihoods in the Pacific island nation and its ability for independent, sustainable development.
China stands ready to work with the Solomon Islands in promoting cooperation and exchanges in all areas and making a good start in creating better bilateral relations, Xi said.
With the Solomon Islands becoming an overseas destination for Chinese tourists, Xi said, there will be huge opportunities for people-to-people exchanges, exchanges between local regions and tourism cooperation.
He also said that China welcomes the Solomon Islands' integration into the big family of China-Pacific islands cooperation and that it is willing to strengthen communication and cooperation with the country within multilateral mechanisms such as the United Nations.
China will also work with the Pacific island country to handle challenges such as climate change and safeguarding the common interests of developing countries, Xi said.
Sogavare said his country is very pleased to recognize the one-China policy and become the 179th country to establish diplomatic ties with China.
"My government and people have chosen to be on the right side of history," he said.
He also said that the Solomon Islands stands ready to conduct cooperation with China in such areas as trade, investment, agriculture and tourism in order to create a new future for bilateral ties.
Earlier on Wednesday, Premier Li Keqiang met with Sogavare. Li said China always maintains that countries big or small should be treated as equals and that China appreciates the efforts of the government of the Solomon Islands in developing its economy and improving people's livelihoods.
China welcomes more competitive and high-quality exports from the Solomon Islands and also encourages qualified Chinese enterprises to participate in the construction of the country's infrastructure, he said.
After the meeting, Li and Sogavare also witnessed the signing of a series of bilateral cooperative agreements between the two countries in such areas as diplomacy, economy, technology and education.
Contact the writers at mojingxi@chinadaily.com.cn