Landmark date marks start of 'profound change in global order'
The 70th anniversary celebrations demonstrate that China now represents a different version of modernity to that of the West, according to a leading academic.
Martin Jacques, author of When China Rules the World, one of the most influential books on the nation in recent times, said the world's second-largest economy had made clear it had a destiny of its own.
"It was a great moment for China. It marked that 70 years after the revolution, China has done brilliantly. It has dragged itself out of poverty, its standard of living is hugely greater than it ever was and it is now by far the most successful country in the world economically," he said.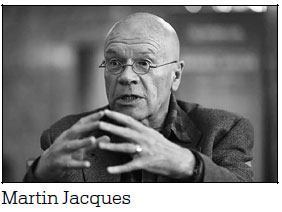 The senior fellow at the Department of Politics and International Studies at Cambridge University insists that any idea that China had to become more Western to succeed now seems absurd.
"That was just hubris on the part of the West. China is a different sort of modernity, based on a different history and culture, and there is now no sign that it is going to move in that direction at all," he said.
Jacques said that since the global financial crisis of 2007-08, it is the West that has lost any sense of direction.
"The West is in big trouble. It is recognizably in serious decline. There is no easy way out for it. It has lost its sense of the future. China and the developing countries now are the crucible of a sense of the future."
Jacques, one of the United Kingdom's best-known left-wing thinkers, came to prominence as editor of Marxism Today, a popular political magazine in the 1970s and '80s.
He went on to be deputy editor of The Independent newspaper in the UK, and over the past decade or so has been a leading commentator on China.
He said it is not always understood in the West why 1949 is so important for China, ending as it did the century of humiliation that began with defeat to the British in the Opium Wars.
"The decline actually starts in the late 18th century, if not earlier, with the rise of Europe and the failure, even in the most advanced areas such as the Yangtze delta, to keep up economically," he added.
Jacques said there was nothing inevitable about Mao Zedong being able to turn this decline around.
"If you look at other great empires of pre-modern times, such as those of Rome and Greece, they were never able to return to their previous status in the world. So there was nothing inevitable about China being able to turn around its historical decline. This is the great achievement of the 1949 revolution," he said.
Jacques believes that is why Mao is such an important figure in Chinese history.
"What he achieved was extremely difficult and required ingenuity and leadership on his part. He understood that the revolutionary force in China was not the proletariat but the peasantry, and that showed an originality and imagination in his thinking."
A number of commentators, particularly some from the United States, argue the big changes came only after Deng Xiaoping's reform and opening-up policy in 1978 and the emergence of a private sector, but Jacques believes this is a fundamental misinterpretation.
"Deng could never have done what he did in 1978 without Mao. If you are asking me which was the greater achievement, it is no question that it was 1949," he said.
"He was building on the foundations which, above all, Mao was responsible for creating."
Jacques said Xi Jinping's report to the Communist Party of China 19th National Congress in October 2017, which launched the country's new era, was another major landmark in the nation's history.
"He was underscoring that the Chinese economy was not gravitating toward capitalism, that it was not going to end up as a Western-style economy or a Western-style polity, but it was going to remain profoundly different, remaining firmly in a socialist, rather than a capitalist, tradition," he said.
Jacques said New China's 70th anniversary has come at the beginning of profound change in the global order.
"The United States under Trump is rejecting the postwar order of which it was the architect, both rejecting multilateralism and advocating a new nationalist position, and thereby not taking responsibility for the global order," he said.
"China has been very pragmatic. It has been very gradualist and cautious and has not wanted to rip up the existing order. But things are moving much more quickly now and over the next 20 years there will undoubtedly be a new global order of some kind," he said.
Jacques believes the new order will be one where the West will prove to be less dominant.
"Europe is going to return to where it was before its rise in the 18th century, a place on the western end of the Eurasian landmass. It will engage more eastward. America, on the other hand, is going to become more divided and inward-looking and is in very serious decline," he said.