Chinese investors target independent schools in UK
Share - WeChat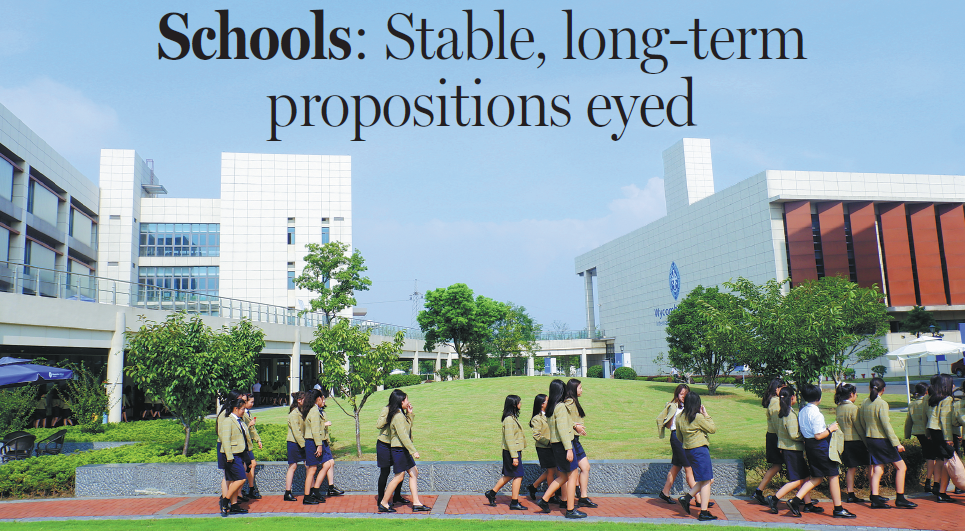 Prestigious establishments purchased amid rising demand
Chinese investors have snapped up a number of prestigious independent schools in the United Kingdom in recent years.
They have swooped in amid rising demand among wealthy Chinese for an English-language education for their children.
The investors have also been encouraged by falls in the exchange value of the British currency.
In July, CATS Colleges, part of the Cambridge Education Group, was acquired by Bright Scholar in a deal valued at 150 million pounds ($185 million). Bright Scholar, the largest operator of international and bilingual schools in China, also bought the boarding school Bournemouth Collegiate School in southern England, St. Michael's School in the Welsh town of Llanelli and Bosworth Independent College in Northampton, a town in the English Midlands.
St. Bees, a 436-year-old independent school in Cumbria, northwest England, was saved by Full Circle Education, a group in Hong Kong, and reopened in September last year. Ipswich High School for Girls in eastern England was sold to Ipswich Education Ltd, backed by China's Wanda Group, which boasts assets of about 6 billion pounds. This year, the school accepted boys for the first time.
In 2015, Achieve Education Group, a Chinese-owned company, bought Chase Grammar School, a boarding establishment in Cannock, a town in the Midlands, and two years later acquired Abbotsholme School in Uttoxeter, near Cannock.
William Vanbergen, founder of BE Education in Shanghai, a leading international education services provider in China, and also chairman of Wycombe Abbey International Schools Greater China, said: "There are a few companies who believe they are buying a brand that can be scaled to China. However, this needs some careful thought as to how valuable a brand actually is, other than being a name. For example, does it have standard operating procedures and a plan to open and run multiple schools, or related experience of this?"
Julian Fisher, senior partner at the consultancy Venture Education in Beijing, said: "There is no doubt that Chinese companies want to control, and profit from, this entire 'pipeline'. Why simply be an agent for a UK school when you can buy it and generate revenue for more than a decade?"
He said the UK is world-renowned for its education and boasts some of the best schools and universities in the world, some of which have been operating for hundreds of years. "If managed well, private education is an incredibly stable long-term investment," Fisher said.
"Chinese education companies looking to expand abroad in accordance with the Go Out policy may feel more confident about their chances of long-term success if they have a well-respected British brand attached to their schools," he added.
Susan Hamlyn, director of the Good Schools Guide, a consultancy that helps parents decide on their children's education, said UK schooling is viewed worldwide as being of high quality.
"What makes it attractive is its liberal approach — more a case of intrinsic worth than just a means to an end via rote learning — as well as the soft skills that forward-looking educationalists acknowledge are crucial to developing a flexible and creative workforce," she said.
"Chinese investors recognize that the more they can establish footholds in genuine UK establishments, the better for them. Recruitment of native English speakers is a major problem for international schools. Chinese investors in UK schools can produce their own."
She said UK independent schools below the top rank are increasingly struggling financially. "It's a very competitive market; fees are now too high for many middle-class UK families, so desks and beds remain unfilled. Investment from abroad can be a lifesaver."
James Dahl, master of Wellington College in Berkshire, southern England, echoed Hamlyn's view, adding: "This can be seen as a positive for UK private and independent schools. Many smaller private and independent schools are struggling financially in the current climate, and Chinese investment can keep them afloat, continuing to offer a variety of options to parents.
"Such schools may also become more international with more boarding students from China, which also benefits all students by providing them with an international outlook."
Barnaby Lenon, chairman of the Independent Schools Council, a nonprofit organization representing more than 1,300 independent schools in the UK and overseas, said, "The biggest expansion of overseas students coming to the UK in recent years has been from China.
"There were virtually no pupils coming from the Chinese mainland before 2000; now, there are over 9,500 such pupils at our schools."
According to the 2019 ISC census report, China remains the top source of overseas pupils in the UK, with 9,585 students — of which, 7,708 have parents living overseas while they study.
Lenon said this demonstrates the growing wealth in China, and also shows that Chinese parents who have sent their children to UK schools in the past 15 years have found them to be highly successful.
"Chinese children appreciate smaller class sizes, the greater individual attention they receive and the wider range of activities outside the classroom," he said.
The huge demand in China for a rounded education has seen rapid growth in leading UK schools setting up campuses in the country.
Fisher, from Venture Education, said that during the initial wave of school openings about 15 years ago, the private school market in China was relatively new and open to outside players.
"The second wave began in about 2015, and on both sides this has been a little more 'cynical', with UK schools receiving money and international outlets for their operations, while Chinese companies have gained valuable expertise and branding that would otherwise have taken many years to acquire."
The British Independent Schools in China: Annual Report 2019 by Venture Education showed there were 22 UK independent school campuses operating in China at the end of 2017. By the end of this year, the number is expected to have more than doubled, with 10 new campuses opening last year and a further 14 openings planned in 2019. Well-known UK schools such as Harrow, Wellington College and Dulwich College have all established footholds in China.
Dahl, from Wellington College, said the most important factor for UK independent schools establishing international branches in China is finding the right partner.
"A partnership in China facilitates a genuine link to a unique Eastern culture and a growing economic superpower. It provides a UK school with a tangible international perspective," he added.
Observers have warned that one of the main strengths of the best UK schools is their belief in a holistic education, and a challenge will be aligning this with Chinese parents and investors who are often more 'goal orientated'.
Fisher said, "It is clear that a number of UK schools in China are now dropping subjects such as the history of art and also psychology because ... the demands from students and parents for subjects such as math and physics are so high.
"For successful partnerships to emerge and flourish, both sides will have to learn the arts of empathy, patience and genuine cross-cultural collaboration," he added.