Shaping the taste of the nation
Share - WeChat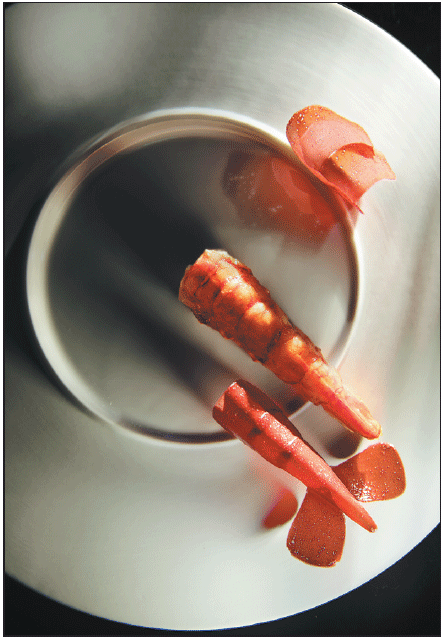 Carabineros de huelva, a main dish by Ultraviolet Shanghai.
Photo provided to China Daily
China's gourmands and gourmets can revel in the epicurean delights offered by these metropolitan purveyors of fine fare
Restaurants have long not just settled for pushing the envelope of foodie's palates, and many have developed their own eccentricities to tickle the customer's visual and auditory senses. So, one might as well get more bang for the buck by visiting some of those innovative restaurants.
42Play
The place sits in the center of the CBD area in the capital and integrates live performance, catering and parties. One can get access to original stage shows of different genres, including sketches, stand-ups and improv comedies, while sipping wine with friends. Performers all have years of show experience and deliver delightful and unforgettable shows. Film salons and interactive workshops are hosted to help urban residents make friends and bond. As for food, 42Play boasts special recipes that pay attention to nutrition and are diverse enough to satisfy different tastes. Be sure to try its Thai curry chicken with pickled bamboo shoots, the pork chop hamburger with American blueberry and the beef cheeseburger. For wine lovers, 42Play has a wide collection. One can opt for its special cocktails or craft beers. Don't miss the desserts and the coffee if you still have room.
The Beijing Parade
The restaurant offers Peking Opera and a good view of Chang'an Avenue. One can take in the modern metropolis vibe of Beijing and the historical elements from the Minguo period (1912-49). The Peking Opera performance is staged on a central platform every night and takes guests back to the old times, while savoring the delicate food. The roast duck, hand-chopped bean curd, fried hairtail, pot noodles and home-cooked radish are all worth trying. The Beijing Parade has also developed 36 types of banquets, each representing different stages of life, such as birthdays and weddings. Lighting is also used to create a sense of occasion, and a photographer will take pictures of the guests.
Blue Note Beijing
The restaurant covers an area of 3,000 square meters and offers live music performances, gourmet food and wine. The Blue Note Jazz Club came from New York and then made its way to Japan and Italy. The Beijing facility insists on food without borders, with a focus on continental recipes. The menu varies with seasons to give diners fresh ingredients. Traditional cooking methods are mixed with a modern approach to optimize taste and visual experiences.
Most Popular