Shaping the taste of the nation
Share - WeChat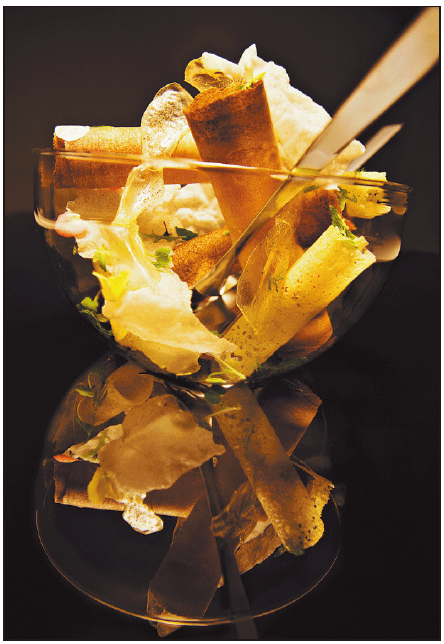 Crunchy fierce salad by Ultraviolet Shanghai.Photo provided to China Daily
Kievruss Restaurant
This Ukrainian restaurant sits in Beijing's Haidian district and is an ideal window for one to get an insight into Ukrainian culture. Elements from Ukraine are seen everywhere in the restaurant, from decorations, dish styles and performances at the restaurant. All the food is prepared by Ukrainian chefs and the liquors are from Ukraine. The songs and TV episodes shown are Ukrainian. And live performances are available throughout. Guests can opt for a set meal for two or four, which basically cover all the classics.
Yu Restaurant in Beijing
You feel like you have entered a world of sakura. Sakura trees sway in front of Japanese style houses on either side of the tables and line the shores of the lakes and the sides of mountains at the front of the room. The tables are covered in fluttering sakura petals. The restaurant plays with the light and imagery in such a way that the floor seemingly rises to change the view, which some may find it a little dizzying if they are standing up. For the whole meal, diners are immersed in an environment created by light and shadow at the Beijing restaurant. The restaurant is decorated with different kinds of imagery and light, some of which can be controlled by the diners by using motion or sound. The two-story restaurant has four sections - the upper floor is for Japanese barbecue, and the lower floor comprises a room for teppanyaki, a lounge bar and a dining room for creative kaiseki. Each section has its own special effects. The background of the teppanyaki room is a collection of interactive cityscapes and scenic spots from around the world. For instance, if the screen shows the image of a beach, when diners talk or clap, the louder the sound, the larger the waves. The images on the background of the bar section are more abstract and change following the hand movements of guests. The food at the restaurant features fresh ingredients from around the world and is prepared using traditional Japanese cooking methods.
Trojan Fairy Beijing
Based on the story of Troy, the Trojan Fairy restaurant aims to turn diners into ancient Greek warriors.
The eating area is all dark. Before the dinner, shiny items are stored in lockers, and diners enter into the room in single file with their hands on the shoulders of the person ahead as they are guided by a waiter who wears night-vision devices.
From sitting down, to how to use knives and forks to eat in the dark, all the instructions come from the waiter.
One purpose of the restaurant is to let people cherish their vision by experiencing losing it for a meal. Dozens of blind people have worked here as pianists or waiters. But for them, being outside or inside the restaurant makes no difference.
The food in the dark zone is set meal from Western cuisine and there is also a bright zone serving Japanese cuisine.
Most Popular