Shaping the taste of the nation
Share - WeChat The Train Inn Shanghai
Huochezhan, or the Train Inn, is a space with railway carriages that combines a cafe, bar, restaurant and hotel in Shanghai - so diners can sit and relive the history of the last century.
A steam locomotive made in Tangshan, Hebei province in 1972, and three soft-sleeper compartments made in Germany in the 1960s, a dining lounge carriage plus a hard-sleeper compartment made in China in 1970 - all the train carriages are green. They were gradually replaced by China's high-speed trains in white.
The dining lounge carriage has the same decoration as in the old days, with simple chairs and tables. One carriage is decorated in keeping with the style of the Orient Express, representing European tastes of the 1930s.
The food combines many Chinese cuisines such as Shanghai and Cantonese, besides showing off the creativity of the chefs.
Shrimp in three ways is the restaurant's signature dish - the head is made with tomato sauce, the body is fried in dough and the tail is deep-fried.
Ultraviolet Shanghai
It has a single table of 10 seats only and a 20-course avant-garde set menu every night. All the guests sit together. And the experience begins. Food leads. Dinner unfolds as a sensory play choreographed by chef Pairet and the Ultraviolet team. The new three-star Michelin restaurant, Ultraviolet is an experimental restaurant in Shanghai. Billed as the first multi-sensory restaurant in the world, Ultraviolet uses sight, sound and smell to enhance the food through a controlled and tailored atmosphere.
The dining room of Ultraviolet is ascetic with no decor, no artifacts, no paintings, and no views. It is a purpose-built room specifically equipped with multi-sensory high-end technology such as dry scent projectors, stage and UV lighting, 360-degree wall projection. Each course of the menu is dressed up by lights, sounds, music, and enhanced with its own tailored atmosphere to provide context for the dish's taste. Ultraviolet incorporates technology traditionally used in unrelated fields to drive and control the "psycho taste" and enhance the perception of food.
yangfeiyue@chinadaily.com.cn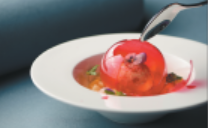 Most Popular