In the name of building the nation
Share - WeChat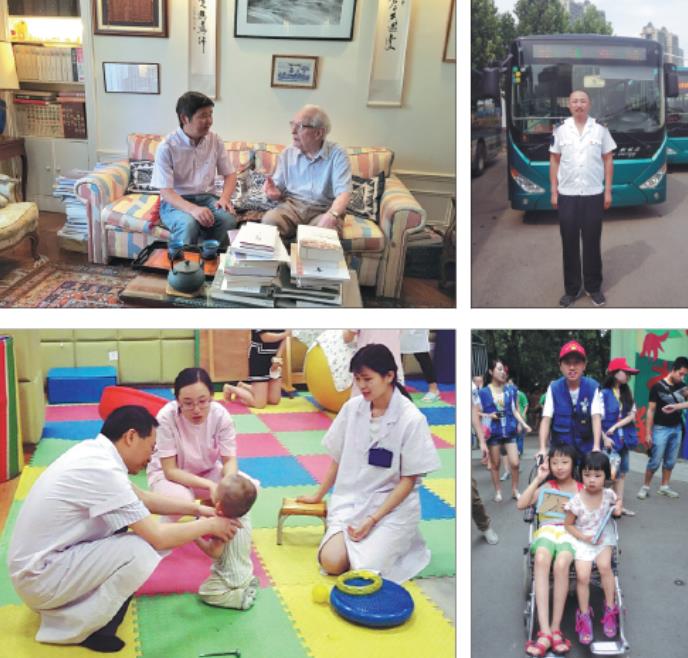 People's stories portray multiple faces of the country's growth since its founding, Zhang Zhouxiang and Aybek Askhar report.
Editor's note: Jianguo became a popular given name for children born after New China's founding. China Daily follows the stories of three people who share the name but have had very different life experiences.
There was a surge in given names representing New China and hopes for a prosperous and strong nation, following the founding of the People's Republic of China on Oct 1, 1949.
This is especially reflected in one particularly popular name-Jianguo.
Jianguo means "build the nation". Over 960,000 Chinese share the name, about 230,400 of whom were born between 1949 and 1959, according to 2014 data from the National Citizen Identity Information Center. This name was rarely given to newborns before 1949.
We have followed the stories of three people named Jianguo.
Pan Jianguo: Literature professor
In 1969, I was born in Changshu, a small city of Jiangsu province that is famous for hairy crabs.
I walked for an hour to school every day as a child. I woke up at 4 am, made my own breakfast and went to class, rain or shine.
I always performed pretty well at school. The walls of my house were covered with merit certificates.
Back then, I felt being able to study is the happiest thing in the world.
My family was poor. So, Spring Festival was the only time I got pocket money. I spent it all on books.
I took the college entrance examination in 1987.
My score surpassed the requirement to enroll in my first-choice university. But, for reasons I don't know, I was instead enrolled in Shanghai Normal University. So, I felt low for some time.
Then, one day, I saw a girl passing my dormitory. The scene reminded me of a verse from The Book of Songs, an ancient Chinese poetry collection-particularly the line: "The girl I love smiles brightly with limpid eyes. And I believe she is the one."
I found out who she was and began to pursue her. She became my girlfriend and, a few years later, my wife.
As a graduate student, I visited the book fair with my professor to buy discounted titles. I often ran out of money. Sometimes, I bought so many books I needed to borrow a wheelbarrow to carry them back to school.
I became a teacher of Chinese literature in my university after I obtained a master's degree in 1994. Eight years later, I became Shanghai's youngest professor of classical literature at age 33. I transferred to Peking University in 2006.
I focus on textual research, which examines historical materials' details. So, I think Beijing is a wonderful place for me since it hosts so many ancient books.
I'm even more grateful that the reform and opening-up have continued deepening over my 30-year career.
China's comprehensive capacity is growing. So, I've been able to attend conferences and give lectures abroad, which has allowed me to share my research and Chinese literature's artistic value with the world.
I'm 50 years old. A traditional Chinese belief holds that people can realize their fate at this age.
I still don't have a clue about my destiny. But I know exactly what I want to pursue in my life.
And I wish my country a very bright future.
Xing Jianguo: Bus driver
I was born in Shandong province's capital, Jinan, in 1975.
My grandfather had fought in the War of Resistance Against Japanese Aggression (1931-45) and the War of Liberation (1946-49). He was concerned about the nation. So, he named me Jianguo.
We lived in the countryside. We were poor. So, I went to learn how to produce handicrafts after middle school.
During this difficult time, I heard that chefs could eat well. I decided to learn how to cook and hoped to become a chef.
Shandong cuisine contains hundreds of dishes. I learned them one by one over more than three years.
In 1994, I became a restaurant cook. Because I worked quite hard, the restaurant appointed me as associate chief cook. I managed a team of 20.
It was one of the busiest times in my life.
Sometimes, I needed to make over a hundred dishes in one afternoon. I still remember that it felt like I just been in a sauna after finishing those dishes.
I love challenges. They excite me. I don't want to stay in one place.
In 2000, one of my friends told me there was a restaurant in Germany looking for a Chinese cook. Without hesitation, I packed my stuff and left for Stuttgart.
I struggled a bit at first because I couldn't speak German. But the other Chinese staffers helped me to communicate and adapt to life there.
I wanted to speak with local people. So, I grasped every opportunity to learn the language.
My job was making the food. But sometimes I also served it to practice my German. I made great progress after a few months of diligent study. This helped me better understand the country.
I stayed in Germany for five years. When I turned 30 in 2005, my parents told me I should return home and get married.
Well, I did miss my family then. And Shandong people are known for filial piety. I must listen to my parents.
So, I told my boss and bought a plane ticket home.
I got married after returning to Shandong. My overseas experience enabled me to land a job as a chef at a pretty big hotel.
But, once again, I wanted to undertake a new challenge after a few years at the hotel.
I've been interested in mechanics since I was young and had heard some of my friends had become bus drivers. So, I became a bus driver in Jinan.
When I was a chef, I thought it's probably the hardest job in the world. After I became a bus driver, I started to think there's no easy job in the world.
Most bus companies are State-owned, and that means more social responsibility.
One of the stations on my route is the high-speed railway station.
My shifts end at midnight. But sometimes passengers can't catch the last bus if the train arrives late.
So, what do I do? I wait and wait until the last person boards.
As a bus driver, I've witnessed the city's changes over more than 12 years.
I believe my life is pretty meaningful. I was a chef in the beginning and turned out to be a bus driver-something I never expected.
Sometimes, life is unpredictable but turns out well in the end.
I hope everyone-no matter what they do-has the time of their life.
Zhong Jianguo: Doctor
I was born in a rural area in Sichuan province in 1968.
My father was the local veterinary station's chief.
Most farmers in my village raised pigs in the past. If a pig got sick, they'd seek my father, and he'd head to their farms without hesitation.
His willingness to help others impressed me most.
China didn't have enough doctors then. So, my dad learned some basic medical treatments in case anyone needed help.
I remember a farmer with tuberculosis had to regularly visit town for injections, but the trip took a full day.
My father learned about his situation and said he'd give the injections for free.
From that point on, he decided to help anyone who needed medical help for free if he could.
His kindness won respect in the village and inspired me to become a doctor.
When I took the university entrance exam in 1987, all the schools I wanted to enroll in were medical colleges.
I first majored in acupuncture at the Chengdu University of Traditional Chinese Medicine in Sichuan province.
After four years in college, I took a job at a hospital in Chengdu, where I still work.
During my career, I've found childhood cerebral palsy is one of the most difficult diseases to treat and, as such, brings hardships to families.
So, I became a childhood cerebral palsy rehabilitation counselor in 2009.
Back then, no Chinese hospitals had such rehab programs. We use various methods, including exercise, verbal, massage and acupuncture therapies. If these fail, we begin operative treatments.
More people heard about us, and more families came for help as we treated more patients.
One of the kids we helped won a national swimming championship.
When I saw his medal, I felt a sense of achievement and more responsibility.
I'm also a tutor for Sichuan Normal University's graduate students. I'm extremely busy but content. I can help not only patients but also students.
I believe I've become like my father by assisting people in need.
I used to see patients in remotes area on a volunteer basis and took my son with me. I wanted to show him the family tradition of helping others. Now, he's also studying in a medical college.
Someone asked me how many people I've treated in my 10 years of cerebral palsy rehabilitation.
I forget the exact number but believe it is more than 6,000.
Being able to help the poor and treat the sick is the most meaningful thing in my life. And I hope to do it for the rest of my days.