HK police sergeant gets to Great Wall
Share - WeChat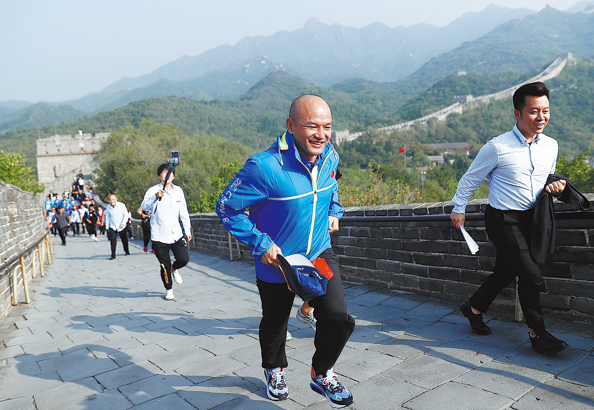 Hong Kong police sergeant Lau Chak-kei realized his dream of climbing the Great Wall in Beijing on Monday morning.
"It is much more majestic and magnificent than I've imagined!" he said in a Sina Weibo microblog post after getting to the top of the Great Wall, saying he hoped more residents in the Hong Kong Special Administrative Region could have the opportunity to experience it personally.
Lau is one of 10 representatives of the Hong Kong Police Force invited to Beijing to witness a series of celebrations for the 70th anniversary of the founding of the People's Republic of China.
Lau, nicknamed "Bald-Headed Sergeant", has become an online celebrity for his bravery and courage in an operation combating violence and rioting in Hong Kong's New Territories in July.
The 46-year-old Hong Kong Police Tactical Unit station sergeant was surrounded and beaten up by a large number of black-clad assailants for more than 10 minutes, with his face, eyes and feet badly injured.
He later faced nonstop nuisance calls, torrents of verbal abuse and threats against his family members.
Lau received strong support from mainland netizens after his story was published by media outlets. His trip to Beijing also attracted online fans, and by 9 pm on Monday his microblog post had received more than 270,000 likes. Many netizens extended a warm welcome and some recommended tour routes he could take.
"You and your colleagues are heroes protecting the Chinese nation, just like the Great Wall. We all stand by you," one netizen commented.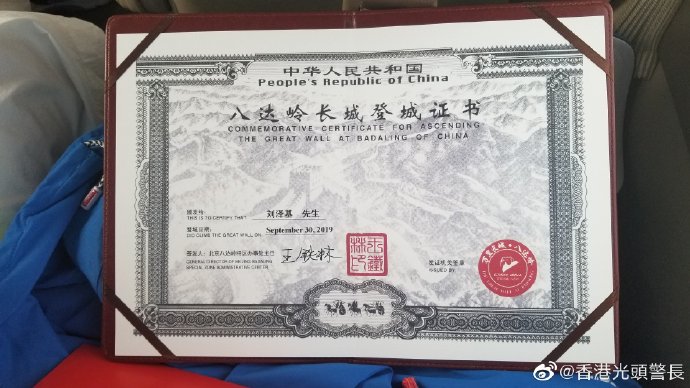 Lau is one of many Hong Kong police who have devoted themselves to combating violence and safeguarding Hong Kong in the past three months.
Another officer, 23-year-old Wu Sui-kit-the youngest member of the Hong Kong police group visiting Beijing-said he felt honored and excited to have the chance to witness Tuesday's grand parade.
"I never expected to watch on the spot. I want to see those planes and tanks," he said.
It is the second time that Wu has visited Beijing, and he said he was also looking forward to visiting the Palace Museum and eating snacks on Wangfujing Street.
Willa Wu in Hong Kong contributed to this story.