New era, shared future
Share - WeChat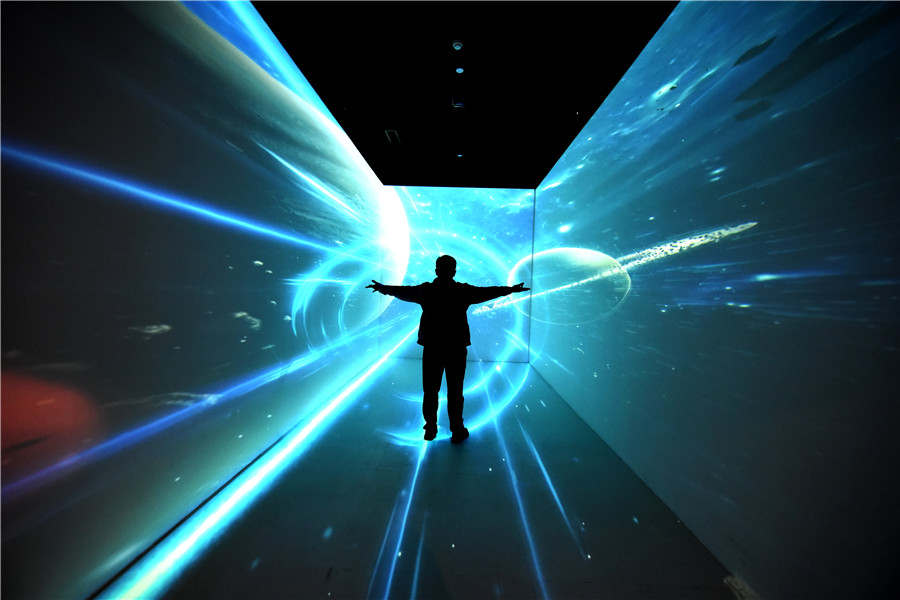 Jin Keyu, associate professor at the London School of Economics, says one thing that is striking as China celebrates its anniversary is the extent to which Chinese people have confidence in their own government, which is in marked contrast to their counterparts in the West.
"That is the critical difference between China and the rest of the world.," she says.
Jin says this is a particularly important in China's New Era under President Xi Jinping who has put particular emphasis on the Chinese political system delivering results for the "grassroots and the masses".
She says that in the West, governments are not seen as important actors with their credibility weakened further by falling living standards after the global financial crisis.
"People are against big government. They are against the notion of State intervention. This was not the case in the past where there was massive use of State capacity such as the post-war Marshall Plan. The role of the State also formed the thinking of founding fathers of the United States such as Alexander Hamilton."
Kishore Mahbubani, distinguished fellow at Asia Research Institute, National University of Singapore, says President Xi has had made it clear the anniversary was not about China resting on its laurels.
The former diplomat says that Xi's speech in Jiangxi province in May when he said the Chinese must prepare for a new Long March was indicative of that. The first Long March between 1934 and 1936 laid the foundation for the Party's eventual victory over the Kuomintang in 1949 and the formation of New China.
"The Chinese will want to concentrate on their celebrations but at the same time they are facing great challenges.
"The metaphor of the Long March is very appropriate because we are approaching a more difficult economic environment with global growth slowing, incomes not likely to rise as fast and an altogether different and more difficult environment."
Mahbubani, also author of Has the West Lost It? A Provocation, says some of the headwinds have been created by the current trade conflict with the US, which he believes would ultimately be against Washington's long term-interests.
"You have a situation where the US is walking away from a wonderful multilateral order it built in 1945, which was its gift to the world. The good news is that the Europeans want to save this order and China can work with Europe."
Mahbubani believes that Xi is right to place emphasis in the New Era in engaging with the developing world, particularly Africa.
"China is right to continue to engage Africa because there are many opportunities for growth there and it is a natural partnership.
"Europe, in particular, hasn't woken up to the demographic explosion that is about to occur there (forecasts suggest Africa's population will triple from now to 4.3 billion by 2100) and are not thinking strategically about its development."
Bukola Ogunsina, editor of the Sunday edition of the Leadership newspaper in Nigeria and a prominent African journalist, is one who concurs with this.
She says initiatives such as Belt and Road and the Forum on China-Africa Cooperation, which has held two major summits under Xi's period of office, has had a significant impact on the continent.
"We can say that through the benefits brought about by these programs, roads have been constructed, rail transportation developed with others under construction."
She says Chinese investment and knowhow have had a dramatic impact on Nigeria - Africa's largest economy - alone.
She cites, in particular, the Abuja Light Rail and the Abuja-Kaduna Rail Line, which have been major Chinese projects in the country.
"Nigeria is taking the development of its transport system seriously because China has shown that it can be done."
Ogunsina says there has also been emphasis on training local people. The National Agency for Science and Engineering Infrastructure (NASENI) in Nigeria sent 60 engineers to China for training, 85 percent of the funding being provided by China.
"In terms of people-to-people exchanges it's a good collaboration," she says.
One area where China has transformed over the past 70 years is in technology - emerging from being a backward agrarian society to the prospect of being a global leader in technology by 2035, one of the aims of New Era.
Edward Tse, founder and CEO of Gao Feng Advisory, the management consultancy, believes this is certainly achievable.
"Looking 16 years ahead you can make a number of predictions as to what China is going to achieve in its New Era and you are talking about it becoming a leader in disruptive technologies like Internet of Things, artificial intelligence and also, of course, in 5G, where it has already established a lead."
Tse, also author of China's Disruptors: How Alibaba, Xiaomi, Tencent, and Other Companies are Changing the Rules of Business, says the strength of China's technology effort is how the central government is driving it from the top down.
"Local governments then become the glue to central government directions, incubating start-ups and giving them funding and creating this vast eco system, which also includes waves and waves of talented entrepreneurs.
"You have got no other country operating like this. Yet you have this paradox where the West still thinks their way is the only way."
Parag Khanna, an international relations specialist and author of The Future is Asian: Global Order in the 21st Century, says what is increasingly impressive is the delivery of the State.
"What you see is this growing confidence in its government capacity. You have seen this over the past 10 to 15 years but particularly over the past five. This has happened while Western countries have turned inward and become more protectionist," he says.
Jin at LSE believes that Xi with the New Era has brought a new dimension to China's role in the world.
"Before the New Era, China's story (since reform and opening-up) was largely seen as an economic one. China now is much more clearly defined. The primacy of culture and national sovereignty has become much more clearly defined," she says.
"What is also important is the capacity of the State to make people's lives better and unabashedly embracing of that concept."
Wang at CCG believes China is now playing a role in the world that could not have been imagined in 1949.
"It is a country with a strong position on the world stage and which has led the way in so many areas, such as poverty reduction.
"In its New Era, it has a new confidence. It has demonstrated a commitment to globalization and wants to engage and partner with countries in a constructive but respectful manner."