Prada feels pinch, to shut HK store
Share - WeChat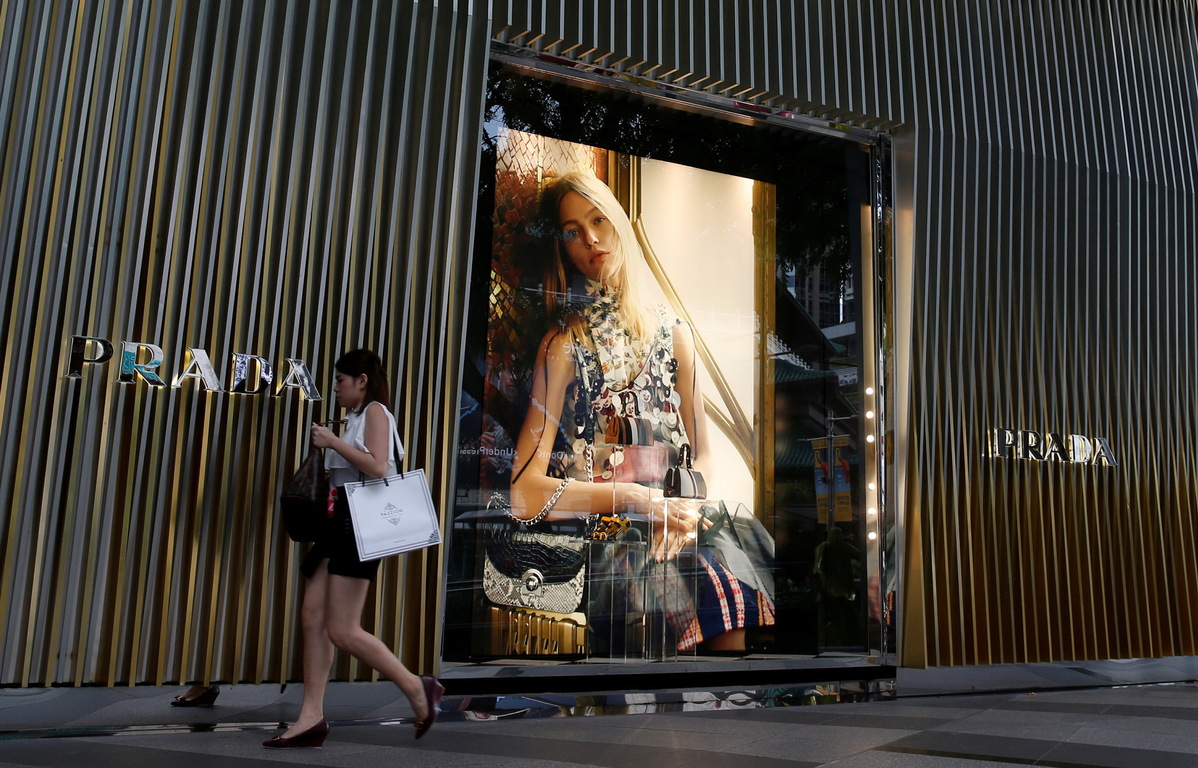 Amidst the dwindling customer footfall, Italian fashion house Prada plans to close its 1,393-square-meter store at Plaza 2000 along Russell Street in Hong Kong's Causeway Bay district when its seven-year lease expires in June 2020.
Prada currently pays HK$9 million ($1.15 million) a month as rent for the space. In a rare move, its landlord Early Light Group offered to slash rents for the next tenant by a staggering 44 percent.
The fashion house's withdrawal from Russell Street, the most expensive shopping street on the planet outshining Fifth Avenue of New York City or Champs-Elysees of Paris, is an example of challenges the city's retailers are facing even as they desperately seek a solution.
As many as 481 out of the 7,400 shops have closed across Hong Kong's four core shopping districts, including Causeway Bay, Tsim Sha Tsui, Central and Mong Kok in August, as three months of protests have rocked the city and given potential visitors reason for concern.
More than 600 shops will shut by next year in the four districts, a gloomy prospect that could drag retail rental charges down by as much as 30 percent, back to a level only seen a decade ago, according to the latest forecast from real estate agency Midland IC&I.
Causeway Bay, in particular, remains the worst-hit amid the drawn-out social unrest. Some 102 shops, out of a total of 1,087, were shut in the district in August, representing a vacancy rate of 9.4 percent, as data released by Midland IC&I on Sep 17 showed.
The vacancy rate in Causeway Bay is likely to climb to 11 percent next year, putting hundreds of workers out of work, as "the current chaotic situation is even worse than the 2003 SARS epidemic", warned Tony Lo, director of Midland IC&I.
Over the past two months, the closure of once-crowded branded stores in the district has no longer been big news. Prada is not the sole retailer that has been forced to call it a day.
Cosmetics retailer Bonjour will shut its 279-square-meter boutique at 8 Russell Street as early as November. The shop has been leased to jewelry retailer Chow Tai Fook for HK$1.3 million a month, 19 percent less than Bonjour's lease of HK$1.6 million a month since 2015.
The landlord of a boutique at Percival Street 70 is said to have cut the rent by a whopping 55 percent to lease it to a drug and cosmetics brand for HK$200,000 per month. The landlord of a shop at Lockhart Road 500 is reported to have reduced the monthly rent by 33 percent to HK$800,000 for the next tenant, as the current lease is scheduled to expire by the year-end.
"For years, Causeway Bay has long been a magnet for shoppers worldwide and the summer is traditionally a peak season for retailers in the area," said Henry Jong, senior regional sales director of Centaline Commercial, a realty agency.
However, over the past 16 weeks, the district has been reduced to a battlefield over and over again, deterring visitors, dampening consumer sentiment and leaving shopping malls, brick-and-mortar retail stores and restaurants with no choice but to bear the brunt of the violent clashes," Jong said.
Over the weekend, Sogo department stores in the heart of Causeway Bay took the lead to close for the day as protesters gathered outside to launch a new round of rally. Many stores in the Times Square shopping center followed suit. There were no reports of damage inside the mall.
The crippling impact of protests is obvious. Retail sales in Hong Kong fell 11.4 percent in value in July from a year earlier, the biggest decline since February 2016. In August, visitor arrivals plunged nearly 40 percent from the previous year.
Last month, the Hong Kong Retail Management Association said it had written to all landlords, urging them to reduce rents by half for six months as a way to help the hard-pressed retailers - most of whom have seen sales drop more than 50 percent in August - to weather the storm.
"However, rent cuts of as much as 40 percent may not be enough to bring tenants back as they are adopting a wait-and-see approach before signing new leases," said Lawrence Wong, director of Sheraton Valuers, a real estate agency.