Documentary about Brazilian's kung fu dream wins award
Share - WeChat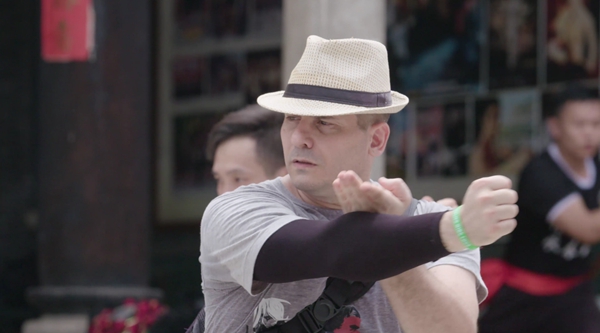 Every year, Brazilian Leonardo Leal de Freitas travels halfway around the world to China. The 38-year-old from Sao Paulo, the largest city in Brazil, has a dream to stay in the Middle Kingdom and teach martial arts skills as a profession.
In the short film Wing Chun Leo, Freitas documents his quest to seek martial arts masters in the hometown of kung fu giant and Hollywood legend, Bruce Lee.
Alongside three other documentaries-Foreigners at Langmu Temple, The Food Mawla and China's Greatest Treasures-Wing Chun Leo has been recognized as the best short documentary in the 2019 Golden Ribbon Multinational Coproduction Series, an annual project to encourage productions reflecting exchanges among countries involved in the Belt and Road Initiative.
Jointly sponsored by China International Television Corp and the Asia-Pacific Broadcasting Union, the project was one of the highlights of the recent 2019 Belt and Road Media Community Summit Forum in Beijing, which drew nearly 400 participants from 43 countries and regions to the Chinese capital in mid-September.
A bit different from previous documentaries about kung fu, director Han Yan says Wing Chun Leo marks the crew's first attempt to introduce the eponymous traditional martial arts style to the audience through the eyes of a foreign enthusiast.
Born in Rio de Janeiro, Freitas started to learn Chinese martial arts when he was around 8 years old. Six years ago, he began studying Wing Chun, a kung fu style widely practiced in Southern China's Guangdong province.
He traveled to Zhuhai in Guangdong to seek further coaching from renowned master, Duncan Leung, who once studied alongside Bruce Lee under the legendary Ip Man-the inspiration for Hong Kong auteur Wong Kar-wai's Oscar-nominated film, The Grandmaster.