Chinese martial arts show delights Bucharest fans
Share - WeChat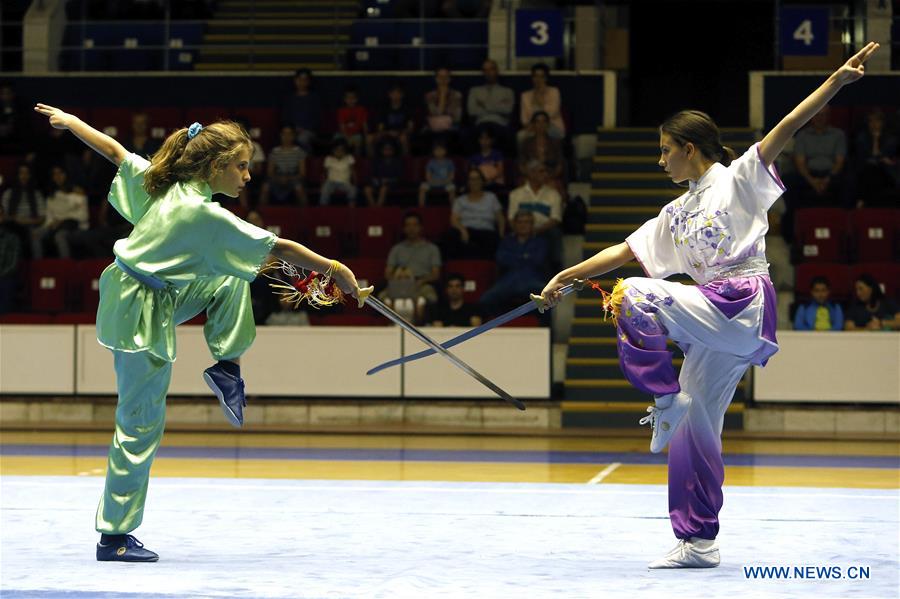 Chinese martial arts athletes staged performances at a multi-purpose gymnasium in southern Bucharest late Wednesday, stunning local martial arts enthusiasts.
A dozen Chinese martial arts athletes performed for nearly 500 spectators, demonstrating some 20 varieties of traditional Chinese martial arts, including nanquan, changquan, taijiquan, taiji fan, nine-section whip, southern stick and swordsmanship. 13 Romanian martial arts athletes, most of them the best practitioners in their country, also showed their skills at the event.
The event, one of a series of activities organized by the Chinese Embassy in Romania to celebrate the 70th anniversary of the founding of the People's Republic of China and of the establishment of diplomatic relations between China and Romania, was attended by Cosmin-Razvan Butuza, State Secretary of the Romanian Ministry of Youth and Sports, Zhao Li, Cultural Counselor of the Chinese Embassy in Romania, Ion Benea, President of the Romanian Federation of Wushu Kungfu.
The Chinese martial arts delegation was organized by the Wushu Sports Management Center of State General Administration of Sports. During the visit, Chinese athletes also went to a local training camp to conduct martial arts exchanges and discussions with their counterparts.